Volkswagen AG (VW) is developing a lithium-air battery that could triple the range of its electric cars, but industry experts believe it could be a long time before that chemistry is ready for production vehicles.
News reports about the battery, which trickled out after a company executive offhandedly mentioned it during the Geneva Motor Show, indicate that the new chemistry could enable VW to jam 80 kWh in a pack no bigger than the current 24 kWh unit on the e-Golf.
A Volkswagen representative told Design News that the automaker is working on a lithium-air chemistry, but declined to say whether engineers have bench-tested the new battery pack or put it into a test vehicle.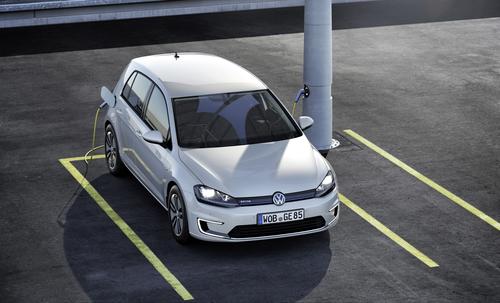 The news is noteworthy because lithium-air has tremendous theoretical potential, offering specific energies of up to 1,000 Wh/kg. By comparison, today's best lithium-ion cells offer between 150-250 Wh/kg.
Material scientists have long held that lithium-air offers great potential, but many contend it also poses tremendous technical challenges. The chemistry, which employs an air cathode to draw oxygen from the atmosphere, works poorly in the presence of moisture. "You have to somehow access the oxygen in the air without allowing in any water," Elton Cairns, professor of chemical and biomolecular engineering at the University of California and a one-time developer of fuel cells for NASA space missions, told Design News in 2013. "And that's a very, very tough task."
"My understanding is that lithium-air doesn't work," added Donald Sadoway, John F. Elliott Professor of Materials Chemistry for MIT, in an email to Design News this week. "The problem is the air electrode. It's unstable and it doesn't last."
Material scientists are working on lithium-air chemistries in an effort to overcome those problems. The solution, they say, is to create a selective membrane that resides between the lithium-based negative electrode and the battery's reaction chamber. Using the membrane, the battery could breathe oxygen, without water or nitrogen seeping through. Numerous battery makers and universities are currently working on such solutions with support from the Advanced Research Project Agency's ARPA-e program.
It's not clear whether Volkswagen is developing a similar solution, or if it has found another way to overcome lithium-air's technical challenges.
Battery experts said that lithium-air must first work reliably in the lab, before graduating to test vehicles and then to production vehicles. "Time-wise, it's way out there," Cairns told us. "It's so far out that all of the problems haven't been discovered or fully appreciated yet."
Related posts: