California's plan to mandate an electric vehicle market isn't the first such undertaking and certainly won't be the last. But as the Golden State ratchets up for its next big step toward zero-emission vehicle status in 2018, it might be wise to consider a bit of history.
History tells us that the development of an electric car market is harder than it looks. The core of the problem is the battery. Batteries are like quicksand -– simple, yet deceptive. They often thwart the best material scientists in the world.
Then there's the consumer: Spoiled by one of the world's most amazing fuels, consumers don't want to pay more for what appears to be less.
California regulators know all this, of course. But they see technological progress on the horizon. That's why they're predicting success this time around.
Unfortunately, predictions can go awry -– and electric vehicle history is littered with such predictions. We've collected a few forecasts from the past, along with photos of electric vehicles that enjoyed varying degrees of success. Consider them food for thought.
Click on the photo below to start the slideshow.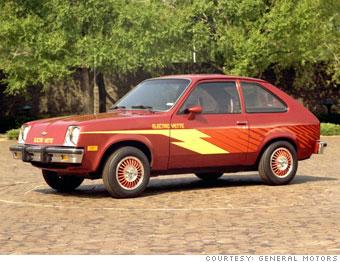 "It is simple, light, easy to take care of, and far more efficient than the old lead battery. It has none of the disadvantages of the latter, which resulted in bringing electric transportation into such disfavor abroad." -- The New York Times, November, 1911 (describing Thomas Edison's new electric car battery).
"In response to a question, (Elliott Estes, president of GM) predicted that by 1990, perhaps 10 percent of auto production might be electric vehicles, most of which would be the second or third car in a family." -- The New York Times, September 25, 1979.
"Describing the advance as 'perhaps one of the most meaningful developments since the turn of the century,' David N. Judelson, president of (Gulf & Western), said at a New York news conference that the company's zinc-chloride battery could be in production within four years and would play a key role in solving the country's long-range energy problems." -- The New York Times, June 6, 1980.
"The president of the Ford Motor Company thought he had a development important enough to call a news conference. The company's researchers, he announced, had achieved a breakthrough in advanced battery technology that would make mass production of electric cars feasible within five to 10 years. That was in 1966." -- The New York Times, July 10, 1981 (describing sodium sulfur batteries).
"'The polymer battery may well be the breakthrough the electric car industry has been waiting for.'" -- George Moser, president of C&D Batteries Division of the Eltra Corporation, The New York Times, September 25, 1981.
"The beta battery can store more than four times the energy of conventional batteries of equal weight and has a projected life of at least five years in vehicles and 10 years or more in utility applications, G.E. said." -- Associated Press, May 15, 1981 (describing sodium sulfur batteries).
"The shiny maroon vehicle, housed in the body of a Chrysler van, is a prototype that the producers hope will be in production in about three years." -- The New York Times, November 15, 1989 (describing an electric van powered by a nickel-iron battery).
"That means that about 70,000 electric vehicles must be on the road in six years, beginning with the 1998 model year." -- The New York Times, May 21, 1991 (describing California's plan for future electric vehicles).
"The electric car's missing ingredient has been a suitable battery. Our Ovonic nickel metal hydride battery, chosen by the United States Advanced Battery Consortium, permits a range of 250 to 300 miles, lasts the car's lifetime, has the power to accelerate the sportiest automotive models, recharges in 15 minutes, uses environmentally safe materials, is easily manufactured, and has a cost in production that allows the car's operation at one-third a gasoline engine's." -- A published letter to The New York Times from Stanford R. Ovshinsky, president, Energy Conversion Devices, July 12, 1993.
"But the electrochemistry is promising. In this country, the consortium's two largest research contracts are for lithium-polymer batteries. The longterm goal is a battery that generates 400 watt-hours a kilo (about eight times better than lead-acid batteries), and costs no more than $100 for each kilowatt-hour of electricity stored." -- The New York Times, October 30, 1994.
"The electric vehicle is not for everybody. Given the limited range, it can only meet the needs of 90 percent of the population." -- Ed Begley Jr., from the 2006 film, Who Killed the Electric Car?
"The Coda, 14,000 of which will be on the road in California over the next year and can travel 100 miles on one overnight charge, is a combination of Chinese-made batteries and complex American-system electronics -- all final-assembled in Oakland (price: $37,000). It is a win-win start-up for both countries." -- Thomas L. Friedman, The New York Times, September 25, 2010. (After selling 100 Coda cars in California, Coda filed for Chapter 11 bankruptcy in California in 2013, according to Wikipedia.)
"(Carlos Ghosn, chairman and CEO of Nissan) said, however, that the Leaf would hit 500,000 units a year in three years. Mass production, he explained, would lower costs enough to make the car a sales success without subsidies sooner than once expected." --The New York Times, November 16, 2010. (Nissan sold 22,610 Leafs in 2013, according to greecarreports.com.)
"One Million Electric Vehicles by 2015." -- Title of a US Department of Energy Status Report, February, 2011.
"The US Department of Energy on Thursday eased off President Barack Obama's stated goal of putting one million electric cars on the road by 2015, and laid out what experts called a more realistic strategy of promoting advanced-drive vehicles and lowering their cost over the next nine years." -- Reuters, January 31, 2013.
Related posts:



More Blogs from Automotive News

0
Steadfast in its belief that diesel engines are right for the times, General Motors is expanding US availability of the compression-ignited technology in Chevrolet cars and light trucks.

26
The term "range anxiety" began fading into the rear view mirror recently, as major automakers made announcements about longer-range, battery-powered cars.

13
Self-driving vehicles, considered little more than a science fiction project a decade ago, are quickly gaining on electric cars as the auto industry's technology of the future.

2
Ford Motor Co. announced plans last week to join an ever-growing number of automakers who intend to produce fully autonomous vehicles in the next five years.

12
Six big automakers will carry the electric vehicle (EV) battery market to a five-fold sales increase by 2020, a new study says.

Focus on Fundamentals consists of 45-minute on-line classes that cover a host of technologies. You learn without leaving the comfort of your desk. All classes are taught by subject-matter experts and all are archived. So if you can't attend live, attend at your convenience.