Volkswagen AG plans to unveil the next piece of its multi-pronged sustainability strategy next week, rolling out the Golf GTE plug-in hybrid at the Geneva Motor Show.
The new Golf GTE will go head-to-head with the likes of the Chevy Volt, the Prius PHV, and the Ford Energi plug-in hybrids, which combine all-electric driving capability with internal combustion engines to extend their ranges. It will also join a Volkswagen lineup that will soon include gasoline, diesel, compressed natural gas, and all-electric vehicles.
Click on the Golf GTE below to start the slideshow.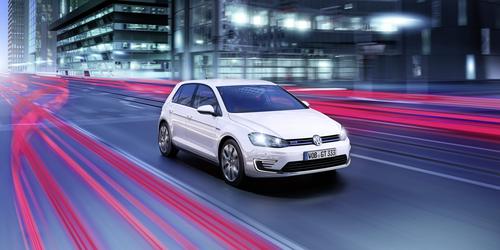 "Two of our biggest markets are Europe and the US, and both have pretty stringent fuel economy regulations coming in the near future," Volkswagen spokesperson Mark Gillies told Design News. "For manufacturers, it's going to be difficult to meet those regulations without having a range of alternative-fuel vehicles, whether they be diesels or plug-ins or CNG cars."
The Golf GTE will fall in line with competing plug-in hybrids, offering a rechargeable lithium-ion battery that's smaller than that of the Chevy Volt but bigger than the Prius PHV's. Rated at 8.8-kWh, the 265-lb liquid-cooled battery will provide 31 miles of all-electric range. Charging time will take about two-and-half hours from a conventional wall outlet.
The new car's real strength, however, will be its gasoline-based range and power. Using a 1.4-liter, 148-HP turbocharged direct injection engine and 101-HP electric motor, the GTE will top out at a combined power rating of 201 HP and 258 lb-ft of torque. By comparison, the Chevy Volt offers about 273 lb-ft of torque and 149 HP. Using gasoline and electricity it will offer a total range of 584 miles –- about 200 miles more than that of the Volt.
Volkswagen announced that the fuel economy rating for the new car would be 157 mpg, but that rating is based on the New European Drive Cycle, which assumes that the battery will be fully recharged every 100 km. Using the US EPA test procedure, the vehicle's rating would probably be similar to the 95 MPGe rating of the 2014 Prius PHV and the 95 MPGe number of the 2012 Chevy Volt.
The Golf GTE is yet another piece of a sweeping sustainability plan for Volkswagen. Last year, it announced that it would produce a limited number of ultra-efficient Volkswagen XL1 vehicles, as well as the all-electric e-Golf and e-up! cars. The new plans are part of a big turnaround for Volkswagen, which was previously notable for describing pure electric cars as "ludicrous" in 2010. Over the past few years, however, the company has reportedly hired more than 400 electric-car experts in an effort to broaden its portfolio.
The need for such vehicles is becoming increasingly important for virtually every manufacturer that sells cars in the US or Europe. US Corporate Average Fuel Economy standards are set to climb to 54.5 mpg by 2025, and California is mandating that 15 percent of every automaker's fleet be composed of zero-emission vehicles in the same year.
Volkswagen, however, says it its efforts extend beyond those government mandates. "Volkswagen wants to be the most environmentally sustainable car company in the world," Gillies told us. "To do that, we've got to produce alternative power trains."
Related posts: