Battery-powered vehicles may now face a different kind of stumbling block on the path to widespread acceptance. A new study from Carnegie Mellon University suggests that over the next 30 years, penetration of EVs into the national fleet will be curtailed if society doesn't first find a way to solve its parking problem.
Titled "US Residential Charging Potential for Electric Vehicles," the study contends that only 56% of vehicles now have a dedicated off-street parking space and just 47% have access at an owned residence. Those numbers are important, the study says, because consumers will be less inclined to buy EVs if they don't know where they'll charge them.
"Many consumers will be wary of making the extra investment if they can't plug in and charge at home," Jeremy Michalek, professor of mechanical engineering and public policy at Carnegie Mellon University, told Design News.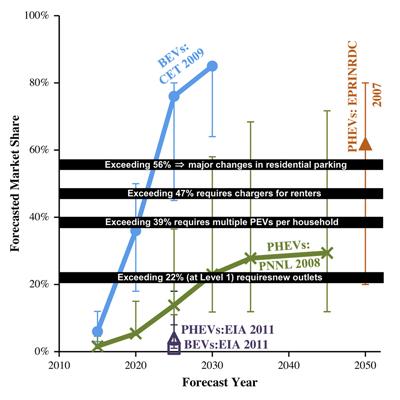 In the long run, the problem could have a profound effect on the overall penetration of electric vehicle technology, which is projected by some studies to rise as high as 80% sometime between 2030 and 2050. Carnegie Mellon's study argues that just to reach beyond the 22% level, however, "would require residential infrastructure investment to increase access to outlets." Hitting 47% would necessitate additional accommodations, such as the availability of residential charging for renters.
In some cases, the accommodations could pose costly engineering challenges, Michalek told us. Bringing charging stations to public parking spaces could require laying of new electrical lines and possible addition of transmission equipment to handle the load. High-voltage fast chargers, which can recharge an EV battery in 20 minutes, might require costly special connections to the electrical grid, he said.
Michalek, who is a plug-in car owner, told Design News that he regularly deals with the charging conundrum. When he's able to secure a space near his home, he runs an extension cord out to his car. "Even then, it's not a great idea because the extension cord has to cross the sidewalk, creating a trip-hazard," he said.
Michalek contends that the parking challenge could affect sales of both battery-electric vehicles and plug-in hybrids, largely because both need to find a charging outlet. "Some adoption is happening now and that's great," he told us. "But this tells us that for electric vehicles to be a really big part of the solution, we're going to need some major changes."
Related posts: