The auto industry's fuel cell mini-trend gained a bit more momentum recently, as Toyota Motor Corp. unveiled a close approximation of the hydrogen-powered car it plans to market in 2015.
Known as the Toyota FCV Concept, the car uses a smaller, more powerful fuel cell stack than its predecessors. It is also specifically styled with large air intakes and a sweeping profile to optimize the fuel cell theme. "From this stage to production, there might be a few additional tweaks," Toyota spokeswoman Katy Soto told Design News. "But we are revealing it now as a close representation of the production vehicle."
Click on the Toyota FCV Concept car below to start the slideshow.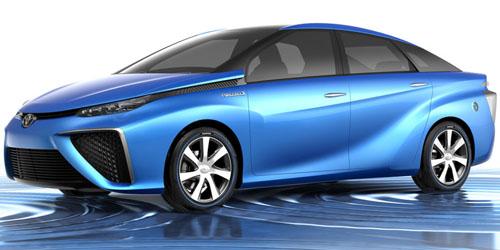 The concept car, introduced at the recent Tokyo Motor Show, has a driving range of about 300 miles and a refueling time of about three minutes at 70 MPa (about 10,000 psi). Toyota said that it also uses a high-efficiency boost converter to raise the voltage, making it possible to use fewer fuel cells and a smaller drive motor. The smaller stack also leads to lower costs, Toyota said.
Toyota isn't talking about specific dates or production volumes yet, but it is steadfastly sticking to a timeframe calling for a 2015 rollout. The giant automaker is one of three companies to recently announce. At the Los Angeles Auto Show, Hyundai said its fuel cell-powered vehicle would reach California showrooms in July and Honda announced plans to bring a hydrogen-powered vehicle to market in 2015.
Industry analysts expect production and sales of the vehicles to be small -- about 4,000 annually by 2020, according to a recent study by Navigant Research. The big roadblocks to success are high cost, particularly of platinum-based fuel cells, and lack of infrastructure.
"In reality, the only existing infrastructure is in California and New York," David Hurst of Navigant Research told us. "So there aren't going to be huge numbers of vehicles, in part because the vast majority of consumers couldn't drive them if they wanted to."
Related posts: