Honda Motor Co. is ratcheting up its investment in fuel cells, rolling out a futuristic new concept vehicle, and announcing plans to launch a hydrogen-powered production car in 2015.
With the sleekly styled Honda FCEV Concept, unveiled at the Los Angeles Auto Show in November, Honda is providing a sneak peak of the coming program. The company says its new technology could be applied to "multiple" future cars, a sign that it is stepping up its efforts in the fuel cell arena. "Honda's taking the fuel cell program very seriously," Honda spokeswoman Robyn Eagles told Design News. "It's above and beyond what we were doing previously."
The FCEV Concept is considered significant because it is said to be the first vehicle to pack the entire fuel cell powertrain into the engine compartment of a vehicle. In the past, fuel cells were typically too large to fit under the hood and, as such, had to be located under the center of the car. Honda isn't saying how it's reducing the size of the fuel cell stack on its forthcoming vehicles, but it did indicate that the smaller stack will free up cabin space and enable seating for up to five.
Click on the Honda FCEV below to start the slideshow.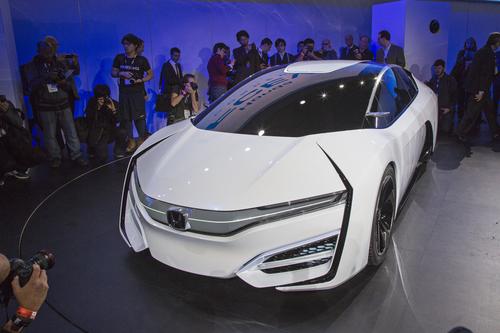 At the same time, the company's new fuel cell will boost power by 60%, despite being 33% smaller than the unit used on its existing hydrogen-powered FCX Clarity. The next-generation car is expected to deliver a 300-mile driving range, with an anticipated refueling time of about three minutes.
Honda has been involved in fuel cell technology for more than a decade. It marketed the FCX fuel cell vehicle in 2002. It then rolled out the FCX Clarity in 2008 and 2011. The number of lessees of Honda's fuel cell vehicles, however, has been miniscule. Currently, the Clarity is limited to southern California consumers and has only 24 lessees, according to Honda.
Honda declined to discuss production volumes for the new vehicle, but did say it would be built on an automated assembly line, suggesting that the numbers for the new vehicle would be significantly larger than those of the Clarity.
Earlier this year, Honda also entered into a collaborative arrangement with General Motors to co-develop next-generation fuel cell systems and hydrogen storage technologies for the 2020 timeframe.
Hyundai Motor Co., which recently announced plans to build and sell fuel cell vehicles starting in 2014, plans to make approximately 1,000 of them by the end of 2015.
Industry analysts expect fuel cell production to climb only slightly over the next few years. A study by Navigant Research earlier this year predicted that approximately 4,000 fuel cell vehicles would be sold annually in the US by 2020, putting it at about two hundredths of 1% of overall vehicle sales.
"We expect 2015 to be the first year when we'll see automakers dipping a toe in the fuel cell retail environment," David Hurst of Navigant told us earlier this year. "But even then, it's going to be several years before we see any real production numbers."
Related posts: