Hyundai Motor Co. has launched production of a hydrogen fuel cell-powered crossover vehicle, with the intent of building and leasing 1,000 of them by the end of 2015.
Known as the Tucson Fuel Cell vehicle, it will offer zero-emission performance and 300 miles of range between refuels. Production will take place on the same assembly line where the conventionally powered Hyundai Tucson is produced. "It's not a test and it's not a science project," Hyundai spokesman Jim Trainor told Design News. "This is reality."
The fuel cell vehicle, essentially identical to the Hyundai ix35 that debuted in Europe earlier this year, will hit showrooms in February and will lease for $499 a month. It will be powered by a proton exchange membrane, a 100kW induction motor, and a lithium-polymer battery rated at 0.95kWh.
Click on the Hyundai Tucson Fuel Cell vehicle below to start the slideshow.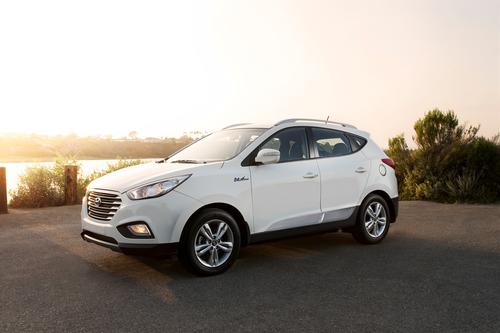 In a press release, Hyundai explained that it considers a fuel cell vehicle a more viable option than a battery-electric vehicle. "But for most consumers, range anxiety and lengthy recharging times remain formidable obstacles to using (BEVs) in their daily lives," the release stated. "In addition, affordable electric vehicle technology is best suited to smaller urban vehicles, not larger family and utility vehicles that many families require to meet all of their needs. Because of the inherent weight and cost of batteries, and the chemistry and physics that drive slow recharge times, today's electric vehicles have practical limits for many consumers."
Hyundai said the Tucson Fuel Cell will be capable of refueling in under 10 minutes and will offer instantaneous electric motor torque of 221 lb-ft. The company added that it logged 10 million test miles on its fuel cells since 2000.
Leases of the Tucson Fuel Cell will be limited to California, in part because the Los Angeles area has nine hydrogen refueling stations. Hydrogen refueling stations are extremely scarce around the rest of the country. To make it easier for the car's lessees, Hyundai said it would provide unlimited free refuels for two years.
Major automakers have been testing fuel cell technology since 1966, when General Motors (GM) built the Electrovan. Since that time, automakers including GM, Honda, Toyota, Daimler, and Hyundai have built hydrogen-powered vehicles. GM has publicized the HydroGen1 (2001), AUTOnomy (2002), Hy-Wire (2003), Chevy Sequel (2005), and the Chevy Equinox concept vehicle (2007). Honda marketed the FCX fuel cell vehicle in 2002, and then rolled out the FCX Clarity, a low-volume production fuel cell car, in 2008 and 2011. Toyota plans to sell a hydrogen-powered car in 2015.
Up to now, hydrogen fuel cell cars have been held back by lack of infrastructure and high cost. By building the new car on the same production line as its conventionally powered counterpart, Hyundai hopes to make a small dent in the cost part of the equation. "Would we like to bring costs down? Yes, we would," Trainor said, in response to a Design News question. "Building it on an assembly line is one way to help keep those costs down."
Related posts: