Urbee, the 3D-printed car that has attracted international attention, now has a new task to conquer -- driving from New York to San Francisco on just 10 gallons of gas.
The trip, set for about two years from now, will require the three-wheeled Urbee to reach a fuel efficiency of about 290 mpg. The series-parallel hybrid vehicle will burn gasoline, but will also use a battery and motor-generator to enable it to drive electrically at times. "We'll have a Guinness World Record if we're lucky -- New York to San Francisco, two people, a dog, and 10 gallons of fuel," said Jim Kor, founder of Kor EcoLogic Inc., at the recent Manufacturing the Future Summit.
Click on the Urbee 2 below for a closer look at the latest 3D-printed car.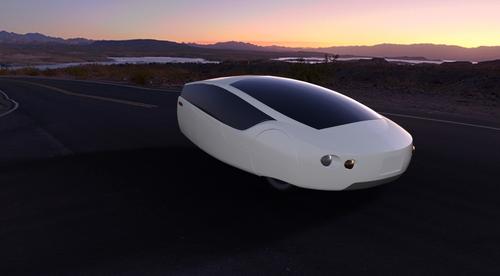 Known as Urbee 2, the vehicle will use a 3D-printed body for the specific purpose of boosting fuel efficiency. Kor told Design News that his choice of 3D printing stemmed from his study of animals -- wolves, antelope, mountain goats, and birds. Those animals, he said, are efficient because the honeycomb structure of their bones makes them light and strong. To endow a car with the same kind of structural efficiency, he knew needed to make a break from conventional manufacturing. "Initially, I never thought of 3D printing," Kor told us. "But then I started thinking, only 3D printing could build something as light and strong as a bird bone."
The resulting vehicle will weigh a scant 1,200 pounds, partially because it will use only about 50 body parts, instead of the thousands that would be employed on a conventional vehicle. Like its predecessor, Urbee 1, it will employ a tubular metal chassis similar to that of a NASCAR racing vehicle, but its entire exterior and interior will be 3D printed. Body parts will incorporate channels for ducting and wiring. Printing will take place on a Stratasys Fortus 900mc printer, which employs fused deposition modeling to build parts from ABS plastic, one layer at a time.
The advantage of the 3D printing process is that it enables Kor to build body parts that incorporate the honeycomb internal structure of a bird bone. Equally important, 3D printing allows him to strategically eliminate weight and thicknesses in areas where they're not needed. As a result, Kor's company is able to keep the vehicle at the 1,200-lb weight, while maintaining a coefficient of drag of just 0.15. And that, in turn, enables the car to employ smaller subsystems. "If we aren't able get to those numbers, it's all going to unravel," Kor told us. "If the car gets too big, then we will need more power to move it, bigger brakes to stop it, and a bigger chassis to carry it all."
Urbee 1 used a 5-HP Honda lawnmower engine for power, but the Urbee 2 will likely step up to a 7-HP Kawasaki engine. It will also include a lithium-ion battery, instead of the previous 420-pound lead-acid battery pack used on Urbee 1. Motive power will come from electric motors at each of the front wheels or directly from the gasoline-powered engine.
Kor's Urbee 1 concept car was introduced in 2010 and has been written about extensively since.
Kor said Urbee 2's concept is similar to that of Volkswagen's XL1, which is said to get 261 mpg. But Urbee 2 is expected to be 500 pounds lighter, two feet shorter, and a have a drag coefficient that's 0.039 lower than that of the XL1.
Kor EcoLogic has launched a Kickstarter campaign as a way of raising funds for the $3 million effort. Kor said he expects the new vehicle's development to take two more years -- one year of design, six months to build, and six months to test. "With enough engineering," he told us, "this car will get better and better."
Related posts: