The auto industry will double its number of manufacturer-built natural gas sedans next summer, as Chevrolet rolls out a bi-fuel version of the venerable Impala.
The 2015 Impala will join Honda's Civic Natural Gas Car as the industry's only factory-built CNG sedans, although CNG-burning trucks and vans are available from GM, Ford, and Ram. Total range of the Impala will be about 500 miles -- approximately 150 using natural gas and an additional 350 with gasoline. "It will run primarily on compressed natural gas and then switch over to gasoline with it runs out of natural gas," GM spokesman Jim Cain told Design News.
Click on the image below to check out the CNG-capable Impala.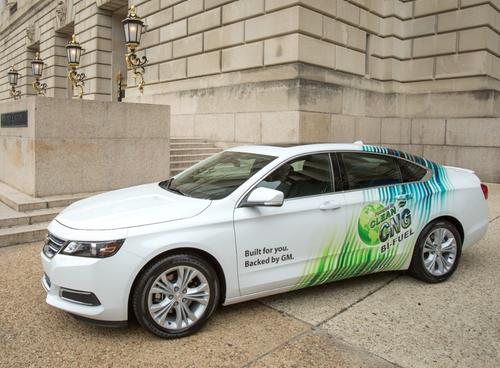 The bi-fuel Impala will be fitted at the factory with a port fuel-injected 3.6-liter engine that incorporates hardened intake and exhaust valves and valve seats to enhance its durability for CNG combustion. The CNG fuel system -- including the truck-mounted fuel tank and plumbing -- will be added by a GM supplier. Impala buyers will have to pay a premium to get the technology, but GM has not yet said how much more it will be.
GM's implementation of a bi-fuel Impala gives the giant automaker a menu of alternative-fuel vehicles from top to bottom. Those include the Chevy bi-fuel pickup truck, bi-fuel Impala full-sized sedan, Chevy Volt compact plug-in sedan, and Chevy Spark, a sub-compact pure electric car.
"Today, you need to have fuel-efficient green alternatives at every price point in the market," Cain told us. "CNG fuel systems are bulky, so they tend to work better with larger vehicles -- trucks, vans, and full-sized sedans. Battery electrics tend to favor smaller vehicles, like the Volt or Spark."
In August, Ford announced it would roll out a Ford F-150 pick-up capable of operating on CNG or liquid propane, in 2014. Ford also offers a bi-fuel F-350 Super Duty pickup and a full-sized van called the Transit Connect that can burn CNG. Similarly, Chrysler's Ram 2500 Heavy-Duty CNG employs a 5.7-liter V-8 engine that can be modified to burn natural gas. Engines typically need redesigned cylinder heads, valve, valve seats, fuel rails, and injectors to be able to burn natural gas.
CNG vehicles are drawing more interest from automotive engineers because they typically emit 20 percent fewer greenhouse emissions than gasoline-powered cars. Their problems, however, include lower energy density and under-developed infrastructure. Bulky fuel tanks can eliminate passenger and/or trunk space. And there are reportedly just 600 CNG refueling stations available to the public in the US.
A recent study by Navigant Research predicted a 16 percent compound annual growth rate for natural gas vehicles by 2020. "It's growing much faster than the total car market," Dave Hurst, senior analyst for Navigant, told Design News last June. "But part of the reason for that is that it's such a small market. It has nowhere to go but up."
Related posts: