In a move that highlights the rise of micro-hybrid technology in next-generation vehicles, General Motors (GM) has chosen to stick with start-stop technology on its 2014 Chevy Malibu, while discarding a more costly mild hybrid system.
GM said that it made the decision because start-stop, along with certain engine enhancements, can provide similar fuel economy benefits, while eliminating the need for customers to pay for a feature that includes an extra lithium-ion battery. The start-stop (or micro-hybrid) version of the mid-sized sedan would use a pair of small lead-acid batteries and a 12V electrical architecture. "A start-stop system with a 12V lead-acid battery is very cost effective, especially if you're able to combine it with enhancements to your internal combustion engine," GM spokesman Kevin Kelly told Design News.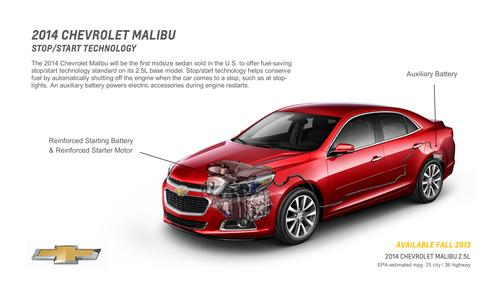 The new Malibu uses a 2.5-liter V-6 engine that includes fuel-saving features, such as direct injection and variable valve timing. Each of those features is said to provide a fuel efficiency boost of a few percent. When combined with start-stop technology, in which the engine is turned off at traffic lights and stop signs, a fuel efficiency gain of as much as 15 percent is possible.
Chevrolet previously offered a version of the Malibu that included a feature called eAssist, which is generically described as a "mild hybrid" technology. A mild-hybrid incorporates a start-stop system, regenerative braking technology, and a power-assist for the engine. To do that, the vehicle needs additional components, including a belted alternator-starter, lithium-ion battery, and a higher-voltage electrical architecture (GM's e-Assist uses a 110V architecture). GM said it will keep the eAssist system on other vehicles, including the Buick LaCrosse, Buick Regal, and Chevy Impala.
Up until now, the auto industry has considered mild-hybrid technology to be a stepping stone between the micro-hybrid and full hybrid (such as the Toyota Prius). In general, micro-hybrids offered a 5 percent efficiency bump, whereas mild-hybrids offered 15 percent. Industry analysts are now saying that engine advancements are potentially blurring the line between the two.
"As internal combustion engines get more efficient -- smaller displacement, less cylinders, and turbocharging -- they give a substantial boost to fuel efficiency, which is then made even better by micro-hybridization," Lux Research analyst Cosmin Laslau wrote in an email to Design News. "That's what happened with the Chevy Malibu: The micro-hybrid became so good, it matched the more expensive mild hybrid, so there was no reason to keep the latter around. Look for this trend to continue -- mild hybrids are an endangered species."
Related posts: