General Motors is plowing more money into its electric vehicle (EV) vision by nearly tripling the size of the lab where it tests and validates the batteries for the Chevy Volt, Cadillac ELR, and Spark EV.
The automaker says that the larger lab is also critical to its longer-range electrification plans, which include smaller, lower-cost EVs that could serve one day as second cars for millions of daily commuters.
"The electric car battery needs to be smaller, lighter, and cheaper to reach the vision of a mainstream battery-electric vehicle," Larry Nitz, GM's executive director of hybrid and electric powertrain engineering, told us.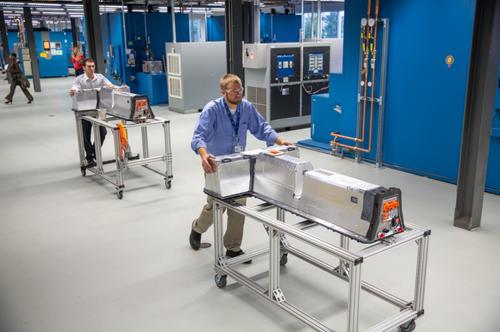 The Warren, Mich., lab will have 85,000 square feet of test space, including 112 pack-level channels and 120 cell-level channels. GM, which does not make its own battery cells, will test products from suppliers such as LG Chem, Hitachi, and A123 Systems. Its engineers will work on in-house development of cooling systems for lithium-ion batteries. The Chevy Volt uses one such system, which includes multiple metal plates and liquid coolant that flows between 288 prismatic lithium-ion cells.
"We bring the cells together into modules and test the modules," Nitz said. "Then we bring our cooling systems together with the modules and cycle them. And the final test is to take the completed packs to chambers where they are tested again."
The lab will include facilities for the development of chargers and packs and the testing of prototype cells from battery manufacturers. "We look at cells four, five, or six years ahead of production. The idea is to understand those cells, so we can begin to construct the module and the pack in a way that best uses what the cell has to offer."
GM has declared its commitment to electrification. In 2012, it invested $35 million in a production plant in nearby Hamtramck, Mich., where the Chevy Volt is built. "Despite what the naysayers will tell you, this industry is headed toward electrification," GM president Mark Reuss told us when the investment was announced. However, "it may take a lot longer than we thought until the transformation is truly complete."
Nitz said the larger battery lab will play a role in that transformation. "We haven't gotten the cost and range to the appropriate point for electrics to be mainstream second cars. But that could happen by 2025. And when it does, it could be a huge market."
Related posts: