If you've been searching for a tiny electrically powered car with no doors, no rear window, and an open roof with a pair of electric skateboards on it, then Smart Automobile may have a solution for you.
Unveiled at the Frankfurt Auto Show last week, the Smart Fourjoy may be one of the auto industry's most unusual vehicles, even by the bizarre standards of the concept car. It includes a futuristic interior with a rear bench seat designed to look like lounge furniture, as well as transparent exterior parts and LEDs fitted to its front and rear lights.
The Fourjoy also features an all-electric powertrain. A 17.6-kWh lithium-ion battery drives a 55-kW permanent magnet electric motor. Smart says that it takes seven hours to charge the battery from a household socket, longer if a 120V line is used.
To accentuate its commitment to zero-emission driving, Smart incorporated hardware to fasten two so-called "longboards" to the Fourjoy's roof. "With these electrically driven skateboards it is possible to cover short distances in the city without producing any local emissions," the company said in a press release. Smart added that skateboard helmets can be stowed behind the seats and that a high-definition camera is available to film the skateboard adventures and share photos with friends on social networks.
Clearly, the Fourjoy was designed to deliver some buzz to Daimler's Smart division, and it's doing that. It's also serving as an experiment -- the first vehicle jointly developed in a partnership with French automaker Renault SA. Smart has not announced any specific plans to build the Fourjoy, but it has said that it will launch a similarly proportioned four-seater late in 2014. Renault is also reportedly working on its own version of the car, to be released sometime next year.
We've collected photos of the fanciful Fourjoy concept car. From LED lights and transparent panels to lounge chairs and pearlescent paintwork, we present some of the Fourjoy's most unusual and innovative concepts. Click on the image below to start the slideshow.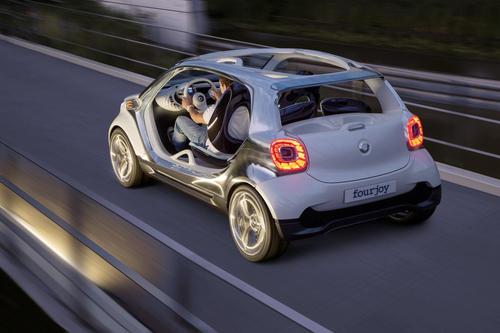 Related posts: