Volkswagen's introduction of two new electric cars is a legitimate step toward electrification for the giant automaker, and not just an effort to comply with government mandates, experts said this week.
"They're serious," Thilo Koslowski, vice president and distinguished analyst for Gartner Inc., told Design News. "Volkswagen has invested a lot of time and resources into exploring electric powertrains. They realize that going forward, electric vehicles will have to become part of their portfolio."
Volkswagen announced last week that it plans to roll out the e-Golf and e-up! cars during the next 16 months. The e-Golf, an electric version of the company's popular compact hatchback, will be introduced in Europe early in 2014 and in the US in 2015. The sub-compact e-up! will be available this year, and will be sold only in Europe.
Click on the image below for a closer look at the e-Golf.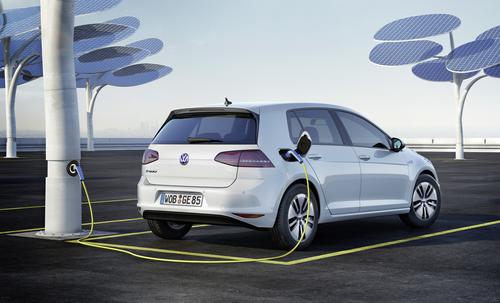 Described as a potential competitor to the Nissan Leaf, the e-Golf will employ a 24.2-kWh lithium-ion battery, offering an all-electric range of about 190 km (about 118 miles). Maximum torque will be 270 N-m, and its 0-100 km/h time will top out at 10.4 seconds. All told, the vehicle will weigh about 3,300 lbs, with approximately 700 of that in the battery. Recharging will take about 13 hours, or eight hours with an optional charging station for the customer's garage.
The smaller e-up! will feature an 18.7-kWh lithium-ion battery with an all-electric range that's said to be "between 120 and 160 km." Torque will top out at 210 N-m and e-up!'s 0-100 km/h time will be 13.2 seconds. Volkswagen said the e-up!'s battery "cells are particularly resistant to heat and cold, meaning that no separate battery cooling or heating is required." The four-door city car will be available this October.
For Volkswagen, which has publicized plans to be the world's largest automaker by 2018, entry into the battery-electric market represents a turnabout of sorts. In 2010, one Volkswagen executive was quoted in various media reports as saying that pure electric cars were "ludicrous." The company has since studied the market, however, and concluded that pure electric vehicles should be one portion of a much larger portfolio. The company reportedly hired more than 400 electric car experts before reaching a conclusion.
"They've been putting up the resources and hiring a lot of people to do this," Koslowski told us. "They've been studying it for a few years, but never made a public announcement about it, as some other companies did."
Volkswagen officials stressed that the program should be viewed as single initiative in a multi-pronged portfolio. "It's a big effort, but it's not necessarily substituting for any of our other programs, such as hybrids or plug-ins," Volkswagen spokesman Mark Gillies told Design News.
Although a few automakers -- such as Tesla and Nissan -- are deep believers in the future of battery-electric vehicles, many others are still hedging their bets with small programs aimed at satisfying state mandates, such as those in California. Earlier this year, that state laid out a plan that would put 1.5 million zero-emission vehicles on its roadways by 2025.
Koslowski said, however, that Volkswagen's effort appears to be more than a so-called compliance program. "This is certainly not going to get us to mass adoption of electric vehicles, because EV appeal for the consumer is still too limited," he told us. "But it's a first step."
Related posts: