Two of the automakers most committed to a hydrogen fuel cell future have agreed to work together on the technology. General Motors Co., producer of about a half-dozen concept and production fuel cell vehicles, said last week that it will team up with Honda Motor Co., which currently offers a fuel cell car.
"This combines two of the biggest programs," David Hurst, senior analyst for Navigant Research, told us. "But there is significant science yet to be done, and it can be costly. This allows them to share the cost of some of that fundamental research."
The two automakers agreed to split the research and man hours required to develop the technology. The agreement could give them an edge on other automakers with fuel cell programs in the works, including Toyota, Mercedes-Benz, and Hyundai.
Click the image below for a slideshow on GM and Honda efforts in this field.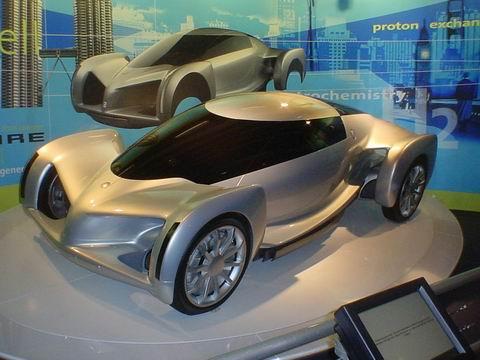 GM built its first fuel cell concept vehicle, the Electrovan, in 1966. It has since built the HydroGen1 (2001), AUTOnomy (2002), Hy-Wire (2003), Chevy Sequel (2005), and Chevy Equinox Fuel Cell concept vehicle (2007).
Honda marketed the FCX fuel cell vehicle in 2002 and rolled out versions of the FCX Clarity, a low-volume production fuel cell car, in 2008 and 2011.
Even with the Honda-GM announcement, industry analysts expect the number of hydrogen fuel cell vehicles on the road to remain miniscule over the next few years. A Navigant report this spring (registration required) predicts that annual US sales of such vehicles will reach about 3,700 by 2020, compared with 130,000 for battery-electric vehicles.
Research efforts are still mostly targeting the cost of fuel cells. "At the moment, fuel cells are still using platinum as one of the main catalysts," Hurst said. "Researchers are trying to figure out how to reduce the use of platinum, because it's so costly." Most automakers are hoping to cut the cost of fuel cell vehicles to below $50,000.
"We expect 2015 to be the first year when we'll see automakers dipping a toe in the fuel cell retail environment," he said. "But even then, it's going to be several years before we see any real production numbers."
Related posts: