Tesla Motors has added battery swap to its arsenal of technologies aimed at displacing gasoline-burning vehicles.
In a demonstration before a packed house of electric car enthusiasts, Tesla chairman and CEO Elon Musk showed how an automatic battery-switching system could remove a battery from a Tesla Model S and replace it in 90 seconds -- about two-and-a-half minutes less than it would take to refill a fuel tank at a gasoline station.
"What we really want to show here is that you can actually be more convenient than a gasoline car," Musk told a cheering audience at Tesla's design studio two weeks ago. "Hopefully, this is what convinces people that electric cars are the future."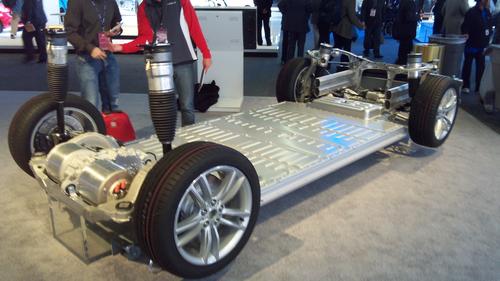 During the demonstration, Tesla actually swapped out two batteries in less time than it took to refuel a single vehicle at one of Los Angeles's fastest filling stations.
Musk said Tesla will install the battery-swap machines, which reportedly cost about $500,000, at its charging stations across the country. Businessweek.com and other news organizations reported that battery pack replacements would cost customers approximately $60 to $80 each and that vehicle occupants wouldn't even have to step out of the car. Rather, an automated machine underneath the car would remove the existing battery pack, along with its cooling system, and install a replacement.
"We have automated nut runners -- the same nut runners we use inside the factory," Musk said at the demonstration. "And they find where the bolts are, and automatically torque the bolts to the exact specification that each bolt needs."
Automotive industry analysts predicted the technology would be effective, but said the effect wouldn't be widespread. "It will be significant, but in small numbers," Dave Hurst, senior analyst for Navigant Research, told Design News. "It will play a big role in some fleets -- such as taxis -- that decide to go with battery-electric vehicles. But the effect won't be huge, even for Tesla."
The technology still faces hurdles, analysts said. The first is the difficulty of standardizing such systems so that the technology could spread beyond Tesla, to the rest of the electric car market. The second is finding ways to swap batteries of roughly equivalent value.
"Even if Tesla deploys these systems, the GM Volts and Nissan Leafs won't be able to use them," Cosmin Laslau, mobile energy analyst for Lux Research, told Design News. "It's a question of having to engineer the entire vehicle architecture to be able to do the battery swap." Laslau added that the inability to get automakers on board was one of the issues faced by Better Place, a battery-swap company that filed for bankruptcy protection in Israel in May.
For consumers, however, a bigger issue might be their willingness to trade a good, $20,000 battery for one that might be inferior. "That's a serious concern," Laslau told us. "Tesla will have to be very careful in how it measures the state of health of these batteries. When they swap it out, they'll have to run diagnostic tests. And when they get a bad battery, they will have to deal with that customer directly."
For now, however, Tesla is confident that the technology adds a new dimension to its network of supercharging stations, which now offer free fast-charges to Tesla customers. "The only decision you have to make when you come into one of our Tesla stations is do you prefer faster or do you prefer free?" Musk said.
Related posts: