After a long drought, an American-made compact car will finally offer a diesel engine later this year.
The 2014 Chevy Cruze Clean Turbo Diesel will bring the diesel engine to the world of US automakers in July, and consumers in this country are expected to receive the technology with open arms. The introduction could be a step forward for Chevy, as well as for an American auto industry that's searching for solutions to looming corporate average fuel economy (CAFE) mandates.
"The time and place is exactly right for this," Michael Siegrist, assistant chief engineer of General Motors Powertrain, told Design News recently. "We think there's a pent-up desire for this product."
Click on the image below for a closer look at the Chevy Cruze Diesel.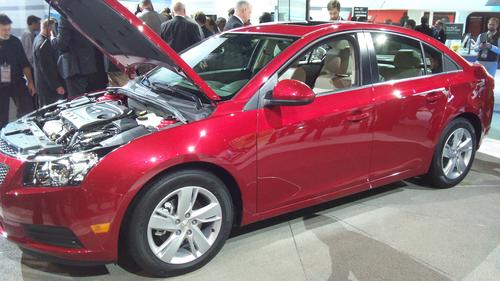 Indeed, the higher energy levels of diesel fuel could appeal to Americans, many of whom wonder why diesel technology has grabbed about 40 percent of the European auto market, while being virtually ignored by North American-based manufacturers of passenger cars. Chevrolet, for example, hasn't offered an American-made diesel compact since the 1986 Chevette.
But that will change over the next few years, experts say. Chrysler will market a diesel version of it Jeep Grand Cherokee SUV and Mazda plans a diesel for its Mazda6 midsize sedan later this year. Moreover, diesel car sales are expected to jump from 3 percent of US sales in 2012 to 6 percent in 2015, according to market research firm Baum and Associates.
Chevy's new product, slated to hit the streets in July, will take a step in that direction by using diesel technology to deliver a luxury twist to Cruze's entry-level customers. Instead of the 150 lb-ft of torque offered by the Cruze's gasoline burning inline four-cylinder engine, the turbo diesel will provide 258 lb-ft of torque at 2,000 rpm, while maintaining Cruze's fuel efficiency at approximately 42 mpg.
"If you're on an on-ramp, you won't need to squeeze the throttle and you won't need to downshift," Siegrist told us. "This engine has an immense amount of torque. It accelerates to highway speeds almost effortlessly."
The 2.0-liter diesel engine will also employ a turbocharger to help with low-end torque and high-end horsepower. The variable nozzle turbocharger, manufactured by Honeywell, employs a pneumatic actuator to change the position of its vanes when the engine's ECU decides it needs a boost.
Designed at General Motors' (GM's) diesel center of excellence in Torino, Italy, the Cruze engine already has served in several GM vehicles in Europe, including the Astra small family car, Insignia large family car, and the Zafira minivan. Engineers in Torino worked closely with counterparts in Michigan to tweak the design for US emissions and diagnostic requirements, as well as for the wider temperature swings and higher altitudes often experienced by American cars.