The new Cadillac ELR will offer more power and torque than its cousin, the Chevy Volt, but it may have to trade some efficiency to get it.
Preliminary numbers released by General Motors indicate that the ELR will top out at 295 lb-ft of torque, versus the Volt's 273 lb-ft. It will also offer peak power ranging from 160 HP to 180 HP, whereas the Chevy Volt checks in at 149 HP. The result might be a slight drop in all-electric range, Cadillac engineers said at the vehicle's unveiling at the recent North American International Auto Show (NAIAS) in Detroit.
"This is one of the tough decisions -- how much do we balance toward performance versus efficiency?" Darin Gesse, marketing product manager for electrified vehicles at General Motors, told Design News. "In the end, we will probably give up a little efficiency to get the performance."
Click on the image below to check out the Cadillac ELR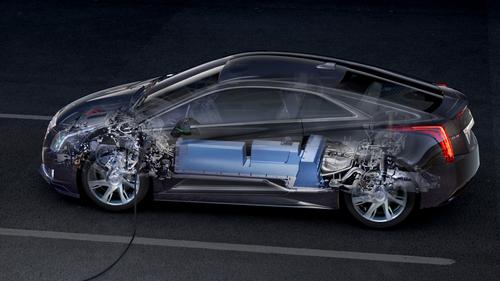 Cadillac introduced the Volt's upscale cousin to huge crowds at NAIAS, calling it a blend of "art and science -- the artistic expression of innovative technology." The new vehicle will look racier than the Volt and will offer more luxurious touches, such carbon fiber elements in the decorative trim, as well as authentic wood and suede in the interior. The ELR will also feature the well-known Cadillac CUE infotainment system, which uses natural voice recognition, capacitive touch, and hand gesture communication.
The ELR will employ the same powertrain as the Volt, with the familiar 16.6kWh, T-shaped lithium-ion battery serving as a power source. Despite using the identical battery, however, the ELR's all-electric range is expected to be a few miles less than that of the 2013 Volt, which features a 38-mile range. Cadillac engineers wouldn't say what the final figure will be, however. "We will probably withhold any EV range announcements until we get an EPA estimate," Gesse told Design News. "We want to be able to deliver whatever we promise."
GM engineers reportedly considered changing the battery pack for the ELR, but ultimately decided that the 16.5kWh unit was the right size. "We found that most Americans drive between 35 to 40 miles each day," Gesse said. "And the ELR is meant to be charged overnight. So this size will meet the needs of most Americans to drive gas-free on their average commute. Giving them a bigger battery would just mean they'll be carrying around more mass."
Gesse said the ELR's higher performance will be reached through "software tweaks," since all of the powertrain hardware will essentially be identical to that of the Volt.
Higher horsepower and torque is consistent with the Cadillac theme, Gesse added. Cadillac customers expect to buy high-tech vehicles that provide enthusiast-type performance. "People are going to stop them on the side of the road and say, 'What kind of car is that?' " Gesse told us. "Our customers love that."
Cadillac ELR Specs:
EPA vehicle class: Compact car
Chemistry: Lithium-ion
Cells: 288 prismatic
Energy: 16.5kWh
IC engine: 1.4L DOHC I4
Electric motors: drive motor 117-135 kW; generator motor, 55 kW
Torque: 295 lb-ft
Charging times: 120V, about 12 hours; 240V, about 4.5 hours
Curb weight: 4,070 lb
Related posts: