A parade of electrified vehicles, including the Chevy Volt, dominated a new Consumer Reports survey asking car owners if they would buy their cars again.
The Volt finished first in the category of small cars, followed by the Toyota Prius C and Nissan Leaf. Three hybrids -- the Toyota Camry Hybrid, Toyota Prius, and Toyota Prius Plug-In -- topped the family cars category, while the Toyota Prius V beat all competitors among wagons and minivans.
Consumer Reports said the results will help bring hybrids even further into the automotive mainstream. "Some people are still suspicious of hybrids," Eric Evarts, senior associate autos editor for Consumer Reports, told us. "But as they hear -- mainly through word of mouth -- that others are happy with them, it starts to break down barriers."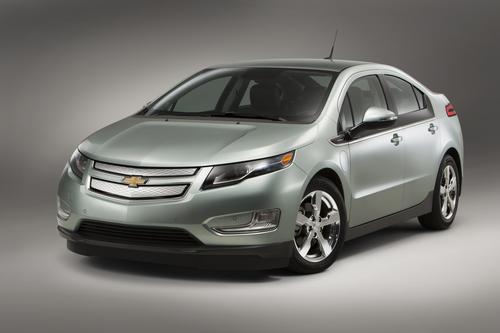 The annual Consumer Reports owner satisfaction survey asks car owners a single question: Considering all factors (price, performance, reliability, comfort, enjoyment, etc.), would you get the same vehicle if you had to do it all over again? The organization received about 350,000 responses on more than 240 models, spanning the model years from 2010 to 2013.
The Chevy Volt had the highest score of any vehicle; 92 percent of owners said they would definitely buy it again. Other high-scoring vehicles included the Porsche 911 (91 percent), Chevrolet Corvette (91 percent), Audi A7 (90 percent), and Dodge Challenger (90 percent).
Consumer Reports editors said they were not surprised by the good performance of hybrids, especially the Volt. "You've got relatively few people who buy them, but they are finding out that the technology works," Evarts said. "It can eventually cut them off from having to buy gasoline without placing any restrictions on their lives."
Not all hybrids did well in the survey. Evarts said the Toyota Highlander Hybrid and Lexus RX 450h didn't perform as well as the Volt or Priuses. "For someone who buys a luxury sedan or an SUV, a hybrid doesn't offer them much. It gives a couple miles per gallon, and miles per gallon probably isn't even on their radar."
The survey contrasts sharply with an R.L. Polk & Co. study that found roughly two-thirds of hybrid owners who returned to the market in 2011 did not opt for another hybrid. Polk economists said the study revealed that consumers who buy hybrids to be eco-friendly generally stick with them, but those trying to save money may opt for more fuel-efficient gasoline-burning vehicles the second time around. The Polk study also tracked new car buyers, whereas the Consumer Reports survey looked at owner satisfaction.
Evarts said the high scores for vehicles such as the Volt and Leaf may also reflect the number of early adopters who are responding to the Consumer Reports survey. Because early adopters are enthusiasts by nature, they are expected to be satisfied with their vehicles. "There are still relatively few buyers of these vehicles, especially the Nissan Leaf," he said. "But we expect the satisfaction numbers to start falling off as they become more mainstream. Eventually, these cars won't just be purchased by enthusiastic early adopters."
Related posts: