Electric vehicle sales numbers are anemic, and EV battery makers are fighting for their lives. So why are automakers rolling out a steady stream of new battery-powered cars?
Last week, we told you about the unveiling of two battery-powered vehicles: General Motors' Spark EV and Chrysler's Fiat 500e. This year, pure electric vehicles have been rolled out by Tesla, Honda, Ford, Coda, and Toyota. In 2013, BMW will unveil its all-electric i3.
"It's a head-scratcher, looking at it from the outside," Mike VanNieuwkuyk, executive director of global automotive at J.D. Power & Associates, told us. "There are so many battery-electric products being developed, and to date there are not a lot of sales."
Check out some of the EVs that are making news.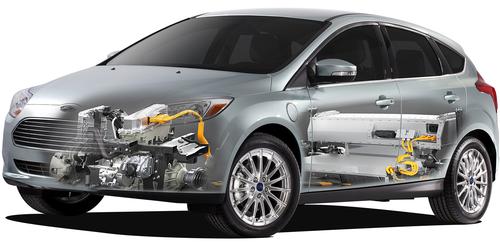 Recent predictions from industry analysts make the situation even more of a puzzler. In November, J.D. Power released a study forecasting miniscule BEV sales numbers. The 2012 Electric Vehicle Ownership Experience Study predicted battery-electrics would make up less than 1 percent of all vehicles sold in the US in 2015. Lux Research and Pike Research have also published dire forecasts for pure EVs and EV batteries in the past year.
Nevertheless, there are reasons for the growing parade of BEVs. Some automakers (including Nissan and Tesla, to name two) are true believers in the potential of the all-electric market. But even for those that may just be testing the waters, there are good reasons for rolling out pure electric cars. They include legal compliance, government subsidies, manufacturability, and a dash of practicality.
"Part of it is there's a risk to being last to the party," Kevin See, an industry analyst for Lux Research, told us. "So while most of us believe it's too early, it's preferable to do it now, rather than miss it altogether."
Experts say some of the recent rollouts have been motivated by zero-emission laws, such as those in California. For example, Chrysler unveiled the Fiat 500e hatchback despite earlier proclamations by CEO Sergio Marchionne that he didn't believe in electric cars. "I'm not scared, I just won't do" electrification, he told Automobile Magazine this summer. "I just will not do it. I think we're smoking illegal materials if we think we're going to make those [profitably]. It just won't work." When Chrysler unveiled the 500e for the press last week, it said the vehicle would be sold only in California.
Greencarreports.com called five of this year's battery-electric introductions "compliance cars" -- the Spark EV, the Fiat 500e, the Ford Focus Electric, Honda Fit EV, and the Toyota RAV4 EV. The website based its assessment on projected sales numbers, sales outside California, and willingness to sell (rather than lease) the vehicles.