Researchers are working on a math-based battery management technique that could dramatically cut charging times for electric vehicles, while boosting useable battery energy and power.
If successful, the new technology could do what material scientists have struggled to do over the past decade -- improve useable power and energy density by up to 25 percent and reduce recharge time of electric vehicles to a scant 15 minutes. The University of California, San Diego, working with Bosch Research and Technology Center and Cobasys LLC, hopes to have a production version of the battery management system as soon as three to four years from now.
The key to the improvements lies in the efficient use of existing battery chemistries. "The idea is, if you actually know where the charged particles are within the battery, then you can safely operate the battery right to its limit," Scott Moura, postdoctoral fellow at the Jacobs School of Engineering at the University of California, San Diego, said in an interview. "So you can maintain the same battery size and get more range and power out of it. Or you can reduce the size of your battery and cut your costs."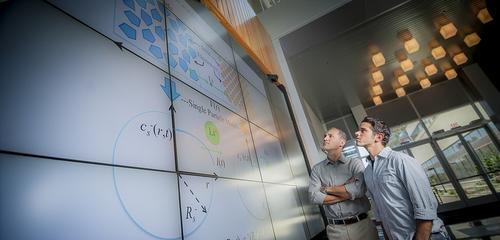 The new battery management technology would accomplish that by combining a mathematical model with the voltage and current measurements that are employed in today's battery management systems. By fusing physical measurements with predictions from the model, the management system could know where the charged particles are inside the battery, and avoid the "charged particle traffic jams" that typically occur during charging. As a result, it could facilitate faster charging and discharging.
"It's all because we can use scientific theory to estimate the important states that are internal to the battery," Moura told us. "Instead of relying solely on current and voltage measurements, which don't represent what's happening inside the 'black box,' we can predict where the charged particles really are."
That knowledge enables the battery management system to more completely charge the battery, and to do it faster. Moreover, it enables the battery to discharge more quickly, which translates directly to power.
The Jacobs School of Engineering is working with Bosch, which makes battery management systems, and with Cobasys, which makes batteries, using a $4 million award from the Department of Energy's Advanced Research Projects Agency -- Energy (ARPA-e). The funding is helping the team to develop estimation algorithms for electric vehicle batteries.
Development of the algorithms is dependent upon the battery's chemistry and could be different from manufacturer to manufacturer, Moura said. "You need to have a decent idea of the characteristics of the cells and of the battery itself," he said. The team is currently working on lithium-ion chemistries.
"What's fantastic about this partnership is that there is a product timeline," Moura said. "Within three to four years, we expect to have an electrochemical-based battery management system to supply to automotive OEMs."
Related posts: