Using a souped-up version of a chemistry that's been around since the days of Edison, a Detroit-area startup wants to slash the costs of batteries for hybrids and plug-in cars.
Energy Power Systems (EPS) says it has boosted the power density and cycle life of the venerable lead-acid battery, without touching the low costs that made it desirable in the first place. With the new technology, batteries for mild hybrids and plug-in cars could cost less than half of what they do today, the company says.
Subhash Dhar, chairman, CEO, and founder of EPS, said in an interview:
The concept has always been to start with a chemistry that gives you high energy density, and then hope you can reduce the cost. But the industry has never made much progress in terms of cost. So we turned it upside down -- we started with low cost and improved the technology, so we can get the performance without disturbing the cost structure.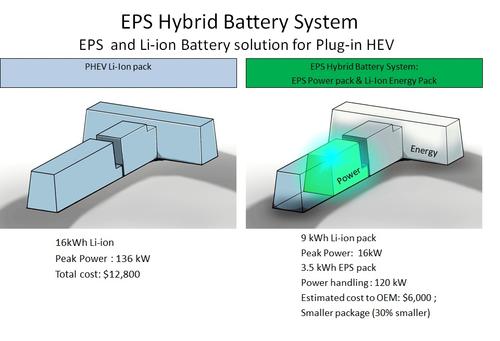 In truth, the energy numbers of EPS' batteries are puny compared to that of today's lithium-ion batteries. Whereas, lithium-ion typically checks in around 150 Wh/kg, the EPS battery is 40 Wh/kg. But that doesn't worry Dhar. The EPS battery is not targeted at high energy (which translates to driving range in an EV), but is instead focused on power density. Power density is far more important for full hybrids, mild hybrids, and micro-hybrids, since those vehicles can extend their range by burning gasoline, Dhar told us. "When you realize that energy isn't critical, and power is critical, you can boost the power and not worry about disturbing the fundamental low-cost structure of lead-acid," he said.
That's why his company has lifted the power density of lead-acid from about 200 W/kg to 1,600 W/kg. Cycle life has similarly been improved by a factor of five.



More Blogs from Captain Hybrid

21
Nissan Motor Co. is taking the electric vehicle into new territory, rolling out an exotic-looking three-seat concept car that combines sustainability with race car-like performance.

23
Although a plug-in electric car has its advantages, some suppliers are betting that not all EV owners will want to plug in. Some, they say, will want to charge their cars wirelessly.

12
Urbee, the 3D-printed car that has attracted international attention, now has a new task to conquer -- driving from New York to San Francisco on just 10 gallons of gas.

110
Wireless EV chargers, designed by HEVO Power, have hit NYC streets. Park over one, and your electric vehicle could reach a near-full charge in about an hour.

26
Chevrolet plans to rolls out a bi-fuel version of its Impala next summer. It will join Honda's Civic Natural Gas Car as the industry's only factory-built CNG sedans.


LATEST ARCHIVED BROADCAST
For industrial control applications, or even a simple assembly line, that machine can go almost 24/7 without a break. But what happens when the task is a little more complex? That's where the "smart" machine would come in. The smart machine is one that has some simple (or complex in some cases) processing capability to be able to adapt to changing conditions. Such machines are suited for a host of applications, including automotive, aerospace, defense, medical, computers and electronics, telecommunications, consumer goods, and so on. This discussion will examine what's possible with smart machines, and what tradeoffs need to be made to implement such a solution.



Datasheets.com Parts Search
185 million searchable parts
(please enter a part number or hit search to begin)