The recent introduction of Tesla Motors' Model S electric vehicle raises an important question: How is Tesla able to get a 300-mile range when other EVs are lingering around 100? The answer is only partially obvious. The Model S's well-known and oft-repeated 300-mile range applies only to the versions with a 85kWh battery.
Even in the world of electric cars, that's a massive battery. Consider that the series hybrid Chevy Volt uses a 16kWh battery and the all-electric Nissan Leaf, a 24kWh battery. As we mentioned a few months ago, 85kWh is big, even when compared to the Rolls Royce 102EX experimental electric (1,400 lb and 71kWh) and BYD e6 (72kWh).
Still, Tesla is doing more than just dropping a huge battery into its Model S cars. The company is squeezing every bit of available juice out of its vehicles. While the 85kWh unit hits a 300-mile range (according to EPA measurement methodology), the smaller batteries do well, too. The Model S's 60kWh battery gets 230 miles of range, while the 40kWh version hits 160 miles. In terms of miles per kilowatt-hour, that's better than the Volt or the Leaf. It's also competitive with the Tesla Roadster -- a $109,000 two-seater built in 2008 that weighs 1,900 lb less than the Model S.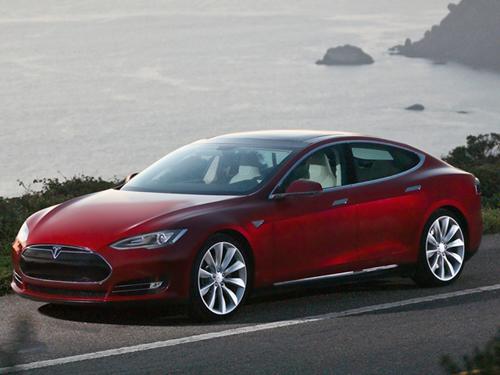 "Even though the Model S is a much larger and heavier car than [the] Roadster with ridiculously more cargo capacity, the total battery energy consumption on the highway is only about 10 percent more than the Roadster," wrote Tesla CEO Elon Musk and CTO JB Straubel in a recent blog. In their blog, Musk and Straubel point to a graph showing that the Model S, traveling at a constant speed of 20 mph, can get more than 450 miles on a charge. From 50 mph to 70 mph at constant speed, the vehicle gets between 240 and 335 miles of range.
Amidst the tumult of the recent Model S introduction, Tesla hasn't yet detailed how its engineers are able to do that. When we talked to Straubel in 2009, he identified a multitude of little features that when taken together, give the company more miles per kilowatt-hour than competitors. Straubel cited innovations in cooling, aerodynamics, and rolling resistance. He also described how specialized brake calipers and the changeover from a two-speed to a single-speed gearbox helped boost the Roadster's all-electric range.
Still, battery size is the biggest factor in Tesla's all-electric range. And that, of course, translates to high cost. Tesla hasn't yet unveiled the price tag for replacing the Model S batteries. On its Website, the company said it expects the battery to retain 70 percent of its capacity over seven years or 100,000 miles. But it added that "it would be impossible to forecast the cost of future battery replacements." Earlier this year, however, it was revealed that Tesla quoted a $40,000 replacement price for a customer who accidently fried his Roadster battery.
For car buyers, the bottom line is that the Model S's large size and high battery cost put it in a different vehicle segment than its EV predecessors. The base Model S is $57,000, before the $7,500 federal rebate. Its high-end brethren, the Signature Performance edition, is $105,000, before the rebate. "The Model S is upscale, so it's going to go head to head with BMWs and Mercedes," said Dave Hurst, senior analyst for Pike Research. "Everyone will be watching to see how it does in that class."
Related posts: