The US battery manufacturer A123 Systems Inc. has developed lithium-ion cells that it says could eliminate the need for costly cooling systems in electric cars.
The Nanophosphate EXT cell chemistry is said to be more stable than previous versions of lithium-ion systems. If the battery does what A123 Systems claims, it could affect the electric car market, because cooling systems add significant cost to electric vehicle battery packs.
"With this chemistry, it's possible to reduce or completely eliminate the cooling system, depending on the vehicle," Andy Chu, vice president of marketing and communications for A123 Systems, told us. "In a hybrid with a high-power battery, you might only reduce the size of the thermal management system. But with an electric vehicle, which doesn't generate as much heat, it's possible to eliminate the thermal management altogether."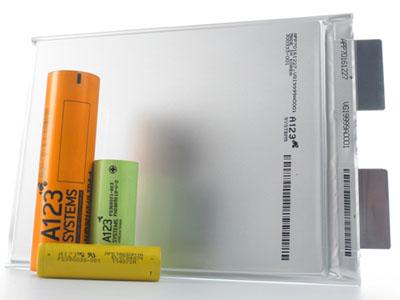 Chu said the Nanophosphate EXT also offers the opportunity for automakers to boost a vehicle's battery life by a factor of two or even three. "Either you get the life benefits or you reduce the size of the thermal management system."
A123 says the new battery cell offers those advantages because its chemistry is more stable than the company's earlier version, known simply as Nanophosphate. In addition to the improved chemistry, A123's engineers used new components -- electrode and separator materials -- to bring about the change. The chemistry will be applicable to large-style prismatic cells, such as those used in electric cars and hybrids, as well as smaller cylindrical cells. The batteries are expected to reach the market in 2013.