If you follow the electric car market, you may have noticed a curious business phenomenon taking place in China. Leaders there are said to be scaling back plans for selling 500,000 electric vehicles (EVs) per year by 2015. The problem, it seems, is that the new breed of EVs are selling sluggishly.
"Developers have yet to achieve breakthroughs and will be lucky to sell 2,000 cars this year, mostly taxis. The government has hedged its bets by broadening the industry's official goals to include cleaner gasoline engines," according to a recent Associated Press article on the subject. "Officials including Premier Wen Jiabao started acknowledging last year that progress was slow and developers need to improve quality instead of rushing models to market."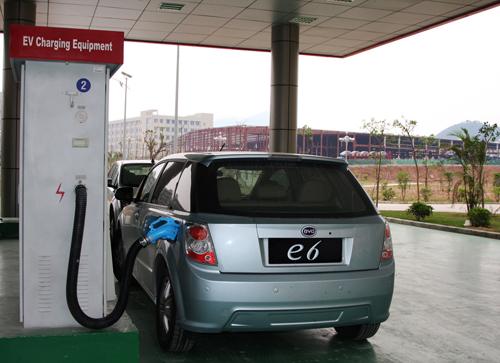 For many EV proponents, China's struggle with EV technology must come as a surprise. For years, the electric car cognoscenti have been warning us about falling behind in the EV race. In a 2010 article called "Their Moon Shot and Ours," Thomas Friedman of the New York Times notably urged US leaders to keep up with China. "Moore's Law of electric cars" would enable the electric car battery's cost per mile to be "cut in half every 18 months."
But there is no Moore's Law of electric cars. That may be why EVs and EV batteries aren't doing very well in the US, either. Sales of the Chevy Volt have been slow. Nissan sold 370 Leafs in April, 579 in March, and 478 in February. A123 Systems, an EV battery maker that was granted up to $249 million in funding from the Department of Energy, posted a first-quarter net loss of $125 million and is said to be struggling.
Moreover, as we've reported before, industry analysts expect huge lithium-ion battery gluts over the next few years. Bloomberg News reported recently that venture capitalists are hesitant to lend support for EV-based efforts. "The only thing that would cause America to be all electric cars is to lose the economic trade war with China and have it imposed on us," a venture capitalist told Bloomberg.
If there's a lesson in all this, it's that EV development is difficult everywhere. China doesn't have a magic bullet, any more than we do.
"There's a general view that, if you throw money at it, you can do whatever you want," David Cole, chairman emeritus of the Center for Automotive Research, told us. "But this technology isn't at that point yet." Cole and many other engineers in the auto industry have repeatedly told us that hybrids and plug-in hybrids are still needed to serve as a bridge to the electric car, which may not be ready for prime time for many years. Even then, Cole has said that plug-in hybrids, such as the Volt, will need to bring their MSRPs down by about 40 percent before they can be really competitive.
I suspect that if you canvassed engineers around the auto industry, you'd find that many agree with the Chinese belief that it's best not to rush models to market. At this point, investments in basic and applied battery research might be wiser than funding commercial products. The reason for that is the same as it has been for 100 years: If you can't build a battery that's remotely competitive with gasoline, it's going to be hard to wean consumers from their internal combustion engines.
Even in China.
Related posts: