If gas prices reached $5, $6, or even $7 a gallon, would you respond by purchasing a hybrid? How about an electric car? Some consumers are already contemplating their responses to those questions. And the news is that alternative fuel vehicles have apparently begun creeping into the mainstream consciousness.
A Consumer Reports survey conducted this year proves that. The magazine didn't query its respondents about what they would do if gas prices skyrocketed. It merely asked what they would look for in their next vehicle. The responses showed that they are concerned about the future of gasoline-burning cars.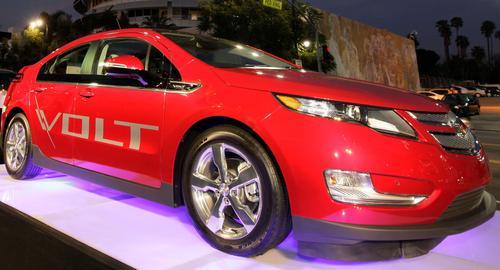 Thirty-seven percent of the survey respondents told Consumer Reports that fuel economy was their most important consideration -- more important than quality, safety, value, performance, styling, or technological innovation. The majority of those surveyed said they expect to get better fuel economy from a gasoline-burning engine. Many expressed a desire to buy a smaller car.
But almost three-quarters of the respondents said they're ready to consider an alternative powertrain, and that's where the results got interesting. Among those, the most popular alternative choice was electric/hybrid at 43 percent, followed closely by flex fuel engines (which can run on E85) at 42 percent. Other alternatives cited by respondents included natural gas (21 percent), hydrogen fuel cells (18 percent), and diesel engines (15 percent). Up until now, consumers haven't shown much interest in plug-in hybrids and pure electric cars. GM sold just 1,462 Volts in April, and Nissan sold just 370 Leafs.
Clearly, though, survey respondents were open to the idea of new powertrain technologies. Among those willing to consider a hybrid/electric car, 58 percent expressed interest in a conventional hydrid powertrain (like that of the Prius). Twenty-one percent said they'd consider a plug-in hybrid, and 13 percent were willing to look at a pure electric car.
The bottom line is that many consumers have apparently reached a tipping point. About 80 percent of them said they support the idea of a government-mandated fuel standard of 55mpg, and an equal percentage said they would be willing to pay extra for a fuel-efficient vehicle if they could recoup that investment through lower operating costs. That's significantly different from what we're seeing in the marketplace. Hybrids are hovering at around 3 percent of new vehicle sales, and pure electrics comprise such a small category that it's almost immeasurable.
But if there's a takeaway from the Consumer Reports survey, it's that some consumers are already considering a plan of action if gas prices climb too high. They may not fully understand the available choices, but they're beginning to think an alternative powertrain isn't such a bad idea, after all.
Do you agree with the survey respondents? If gas prices reached $6 or $7 per gallon, what kind of powertrain would you consider? Tell us in the comments section below.
Related posts: