A startup company has created a low-cost electric car battery with an energy density they say is almost three times as high as that of the Nissan Leaf battery.
California-based Envia Systems said that in tests performed under the sponsorship of the US Advanced Research Projects Agency, its new battery achieved energy densities of about 400Wh/kg. If the company is able to carry its battery's energy levels forward to high production volumes, it could enable creation of electric cars with a 300-mile all-electric range. What's more, Envia said it could create the new battery for less than half the cost of existing technology.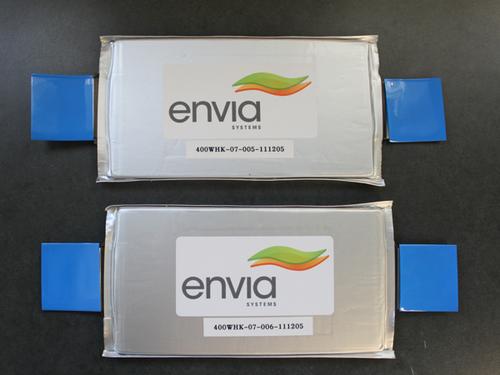 "If you double the energy density, then the amount of active material in the cell is cut in half," Atul Kapadia, chairman and CEO of Envia Systems, told us. "So if you have the same material, your cost gets reduced by half."
The creation of such a battery would be a huge step forward for the electric vehicle (EV) community. Today, electric cars are limited by short range and high battery costs. The Leaf, for example, has a range of 73 miles to 100 miles, and its battery offers an energy density of about 140Wh/kg. Costs are more difficult to gauge, but big, cooled, battery packs with structural protection and electronic control can cost as much as $1,000/kWh, while cells alone have been known to sell for $280/kWh from some overseas suppliers.



More Blogs from Captain Hybrid

7
Hyundai Motor Co. has launched production of a hydrogen fuel cell-powered crossover vehicle, with the intent of building and leasing 1,000 of them by the end of 2015.

22
Nissan Motor Co. is taking the electric vehicle into new territory, rolling out an exotic-looking three-seat concept car that combines sustainability with race car-like performance.

23
Although a plug-in electric car has its advantages, some suppliers are betting that not all EV owners will want to plug in. Some, they say, will want to charge their cars wirelessly.

12
Urbee, the 3D-printed car that has attracted international attention, now has a new task to conquer -- driving from New York to San Francisco on just 10 gallons of gas.

110
Wireless EV chargers, designed by HEVO Power, have hit NYC streets. Park over one, and your electric vehicle could reach a near-full charge in about an hour.


LATEST ARCHIVED BROADCAST
For industrial control applications, or even a simple assembly line, that machine can go almost 24/7 without a break. But what happens when the task is a little more complex? That's where the "smart" machine would come in. The smart machine is one that has some simple (or complex in some cases) processing capability to be able to adapt to changing conditions. Such machines are suited for a host of applications, including automotive, aerospace, defense, medical, computers and electronics, telecommunications, consumer goods, and so on. This discussion will examine what's possible with smart machines, and what tradeoffs need to be made to implement such a solution.



Datasheets.com Parts Search
185 million searchable parts
(please enter a part number or hit search to begin)