A startup company has created a low-cost electric car battery with an energy density they say is almost three times as high as that of the Nissan Leaf battery.
California-based Envia Systems said that in tests performed under the sponsorship of the US Advanced Research Projects Agency, its new battery achieved energy densities of about 400Wh/kg. If the company is able to carry its battery's energy levels forward to high production volumes, it could enable creation of electric cars with a 300-mile all-electric range. What's more, Envia said it could create the new battery for less than half the cost of existing technology.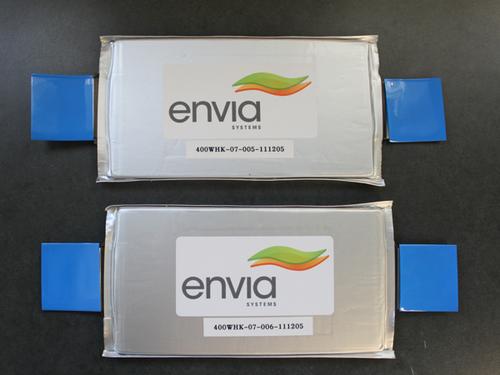 "If you double the energy density, then the amount of active material in the cell is cut in half," Atul Kapadia, chairman and CEO of Envia Systems, told us. "So if you have the same material, your cost gets reduced by half."
The creation of such a battery would be a huge step forward for the electric vehicle (EV) community. Today, electric cars are limited by short range and high battery costs. The Leaf, for example, has a range of 73 miles to 100 miles, and its battery offers an energy density of about 140Wh/kg. Costs are more difficult to gauge, but big, cooled, battery packs with structural protection and electronic control can cost as much as $1,000/kWh, while cells alone have been known to sell for $280/kWh from some overseas suppliers.