Vehicle-to-vehicle (V2V) communications technology received a big vote of confidence this past week, when Consumer Reports came out in support of it.
For many, the term V2V may elicit little more than a puzzled scratch of the head, but the magazine's support is one more sign that, ready or not, all of us are going to be hearing more about the nascent technology in the near future.
"We believe there are potential safety benefits to a system like this," Liza Barth of Consumer Reports told us. "And that makes it worth pursuing."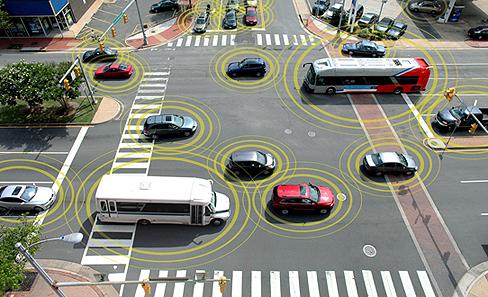 Consumer Reports isn't the only organization that thinks it's worth pursuing. The National Highway Traffic Safety Administration, which recently hosted a Connected Vehicle Safety Pilot Program event, has said V2V will save more lives than seat belts, air bags, and electronic stability control combined. According to the NHTSA's figures, the technology could eliminate about 80 percent of the 32,000 fatalities that occur on American highways every year.
V2V would use onboard dedicated short-range communication (DSRC) transceiver boards, which are only a little bit larger than a credit card. Operating in the 5.9GHz frequency band, the boards would communicate with other vehicles, as well as traffic lights, stop signs, municipalities, government agencies, and traffic control centers.
The big question, of course, is how such technology would enable the country to save more than 25,000 lives per year. The NHTSA and Consumer Reports say the technology would help in a number of ways. An "intersection assist" feature would alert drivers if a car is about to blow a red light or stop sign. A "left turn assist" feature would let drivers know if there's enough time to turn left into oncoming traffic. Other features would include forward collision warnings, do-not-pass warnings, lane-change warnings, and blind spot warnings.