Shielding the wires
The place where the big changes begin is in the wiring. Suddenly, vehicles are carrying massive amounts of current. Features that used to run on a measly few amps have been boosted to 100A, 200A, and even higher. The upshot is that more copper is needed to handle the additional current, and more shielding is needed on the cable to prevent electromagnetic interference (EMI).
Cables, which in most cases had a cross-sectional area of about 25mm2, are now looking at more than 75mm2. To put it another way, wire diameter has jumped from about one-eighth of an inch to three-fourths of an inch.
"The wires are much, much bigger," Rand Wilburn, global marketing manager for the cable and interconnect supplier Molex, told us. "It's not only the amount of copper in the cable. It's the amount of shielding that it needs."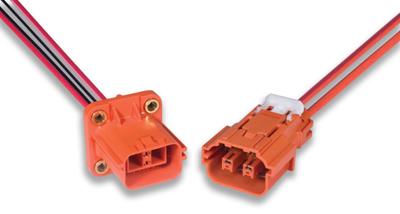 For engineers -- who are already struggling to find space around the engine, transaxle, and traction motor -- the prospect of thicker cables raises yet another packaging issue under the hood. Now they must consider how to route the cables, which have a wire braid or foil around them and therefore are less flexible than their skinny predecessors.
And that's where the issue of shielding must come in. Engineers can't afford to have current-carrying cables emitting EMI, and they can't afford to let the electrical noise come in, either.
"You've got a lot of electrical systems within the 'brain' of the car," Wilburn said. "That's why the shielding is necessary. Any time you put those kinds of voltages and currents through a wire, you're going to potentially create electromagnetic interference."
Dealing with interconnects
Suppliers say the braiding and foil around the cable help mitigate EMI. But what's often lost in the discussion is that it's equally important for interconnects to have the shielding, as well as larger size. There are a variety of reasons for this, not the least of which is the fact that they must deal with thicker, braided wires.