While lawmakers continue to push fuel efficiency, automakers are looking for inexpensive ways to meet government mandates, and consumers seem increasingly open to the idea of start-stop technology.
"Consumers like this concept, because there's a tangible feeling that they're saving fuel," Kevin See, an analyst for Lux Research, told us. "But the OEMs are also saying, 'We've got to get our emissions down and our fuel efficiency up, and this is the cheapest way to do it.'"
A study Lux recently published suggests the adoption of start-stop in the next few years will be exceptionally fast. The study, "Every Last Drop: Micro- and Mild Hybrids Drive a Huge Market for Fuel Efficient Vehicles," predicts that within the next five years, more than half the new cars sold in the US will be micro- or mild "start-stop" vehicles. By 2017, it says, 8 million of the new vehicles sold annually in the US, and 39 million sold around the world, will incorporate the technology.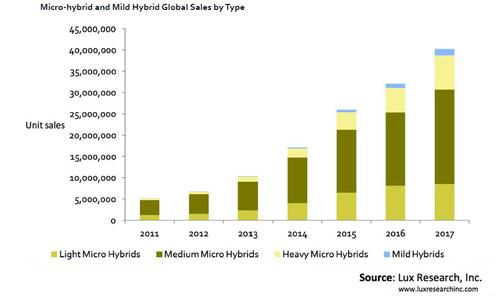 Those are amazing statistics. By comparison, electric cars and hybrids have struggled for years to grab a tiny chunk of the market. Electronic stability control, which is said to be capable of saving 20,000 lives a year, took nearly two decades to take hold. But start-stop -- more often called microhybrid technology -- is expected to rise from virtually nothing today (0 percent in the US, about 5 percent in Europe today) to more than half of the American market in five years.
The idea is simple. The vehicle uses a beefed up starter motor and shuts the engine down at traffic lights, just as a full hybrid does. The vehicle needs the more robust starter because it will likely be restarted approximately 350,000 times during its life, compared to about 35,000 for conventional vehicles.
But the beauty of start-stop lies in its simplicity. Because it doesn't use any form of electrification to propel the vehicle (unlike a full hybrid), it doesn't need a special powertrain or special batteries. Nor does it need a higher-voltage electrical architecture, like the 300V systems used by full hybrids. Instead, the vehicle keeps its conventional lead-acid battery and 12V architecture. As a result, the technology keeps costs low, even though it delivers a fuel efficiency boost of 3 percent to 10 percent.