Stanford University researchers believe they've found a better way to build a long-range electric car. Amazingly, their solution has nothing to do with batteries.
By using resonating metal coils to wirelessly transmit large amounts of current between roadways and vehicles, the researchers say it's now possible for an electric car to have virtually limitless range.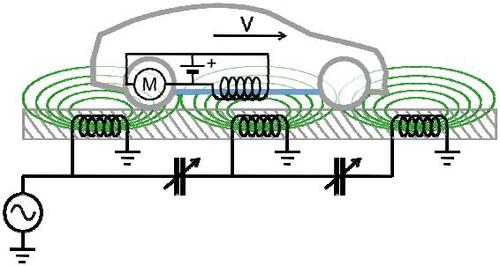 "The idea is that the energy transfer would take care of the base load that you would need to propel the car," Sven Beiker, executive director of the Center for Automotive Research at Stanford (CARS), told us. "If you do the math, you see that it would provide enough energy for the car to cruise down the road at about 65mph."
CARS's idea is to use a concept called magnetic resonance coupling to transfer the energy. A resonating coil in the roadway would be connected to an electric current, which would generate a magnetic field, causing a coil on board a passing vehicle to resonate at the same frequency. With the two coils coupled by this magnetic resonance, electrical energy could be transferred between them.
The technology is new, but not unique. Researchers at MIT have developed a similar technology, and a spin-off company called WiTricity is aimed at wireless transfer of power to stationary devices.
Stanford, however, suggests that it can be employed with moving vehicles. Researchers say they can wirelessly transfer 10kW of power to a moving car across a distance of 6.5ft. It's not known yet how many of the coils would be needed or how far apart they would be spaced in order to power a car driving down the highway.
"It could be 10ft or 20ft or 50ft," Beiker said. "More research will tell us what the exact number is."