The 26,000lb bus represents a departure for the electric vehicle market, which has traditionally focused on smaller vehicles. The Tesla Roadster, for example, is a two-seater. The Mitsubishi i MiEV and the Smart ED are sub-compacts, while the Chevy Volt, Nissan Leaf, and Ford Focus range from compact to mid-size. Moreover, most of the vehicles' batteries are either air- or liquid-cooled.
While most auto companies are searching for ways to boost range to 150 miles and beyond, Smith isn't worried about it.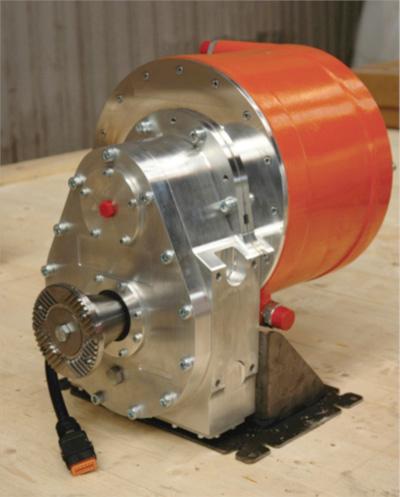 "Our customers have very dedicated routes," Hansel said. "They know their exact distances, and we size the batteries for the applications." He added that an electric school bus could also be recharged during the day, when the buses aren't in use, as well as at night.
Cost of the buses is expected to be considerably higher than the cost of diesel-based buses, but exact figures are not yet available, as production isn't expected to begin until the second quarter of 2012.
Smith, which specializes in electrification of medium-duty trucks (such as delivery trucks), expects to eventually build a bigger bus with a gross weight of 33,000lb. That bus could hold between 65 and 70 passengers.
"There are always going to be electrification applications that fit nicely in the 100-mile duty cycle," Hansel said. "School buses are one of those applications."
Related posts:
For a close-up look at GM's Chevy Volt, go to the Drive for Innovation site and follow the cross-country journey of EE Life editorial director, Brian Fuller. In the trip sponsored by Avnet Express, Fuller is taking the fire-engine-red Volt to innovation hubs across America, interviewing engineers, entrepreneurs, innovators, and students as he blogs his way across the country.



More Blogs from Captain Hybrid

23
Although a plug-in electric car has its advantages, some suppliers are betting that not all EV owners will want to plug in. Some, they say, will want to charge their cars wirelessly.

12
Urbee, the 3D-printed car that has attracted international attention, now has a new task to conquer -- driving from New York to San Francisco on just 10 gallons of gas.

110
Wireless EV chargers, designed by HEVO Power, have hit NYC streets. Park over one, and your electric vehicle could reach a near-full charge in about an hour.

26
Chevrolet plans to rolls out a bi-fuel version of its Impala next summer. It will join Honda's Civic Natural Gas Car as the industry's only factory-built CNG sedans.

25
The hydraulic hybrid may not be grabbing headlines, but it's a solid fuel-efficient technology with a potential future in heavy-duty vehicles.


LATEST ARCHIVED BROADCAST
For industrial control applications, or even a simple assembly line, that machine can go almost 24/7 without a break. But what happens when the task is a little more complex? That's where the "smart" machine would come in. The smart machine is one that has some simple (or complex in some cases) processing capability to be able to adapt to changing conditions. Such machines are suited for a host of applications, including automotive, aerospace, defense, medical, computers and electronics, telecommunications, consumer goods, and so on. This discussion will examine what's possible with smart machines, and what tradeoffs need to be made to implement such a solution.



Datasheets.com Parts Search
185 million searchable parts
(please enter a part number or hit search to begin)