Tesla Motors' plan to build practical, competitive electric vehicles (EVs) will finally be put to the test this summer, as the upstart car company rolls out its long-awaited Model S.
At the North American International Auto Show (NAIAS) in Detroit last week, Tesla representatives showed off the Model S and predicted that it will surprise consumers with its range, acceleration, and styling.
"People are looking for excellent performance and design," Tesla spokeswoman Khobi Brooklyn told us. "We don't want our owners to compromise because they're driving an electric car."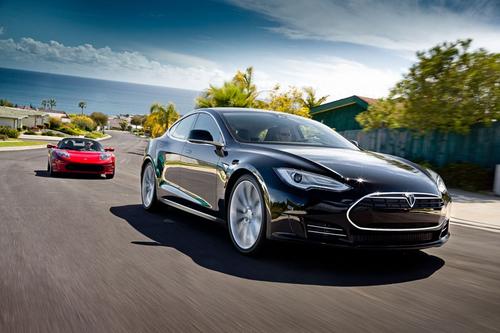 One key to the Model S's design is the use of a flat lithium-ion battery pack that sits at the base of the vehicle. At NAIAS, the company displayed the flat battery pack, which contains at least 7,000 small 18650-type batteries, each measuring 18mm in diameter by about 65mm long (slightly larger than a AA battery). The Model S's battery packs come in three capacities -- 40kWh, 60kWh, and 85kWh -- with successively higher numbers of the 18650-type batteries in each. Tesla said that the flat battery pack contrasts with other lithium-ion EV packs on the market today in that it takes up almost no space in the cabin of the vehicle.
"This enables us to have an unbelievable amount of space," Brooklyn said. "We have more cargo space than a 3 Series BMW." She added that the Model S has no transmission or battery tunnel, and it offers a lower center of gravity than similarly sized vehicles.
With the three battery packs, the Model S will have three all-electric ranges. The 40kWh pack will travel 160 miles between charges; the 60kWh will go 230 miles, and the 85kWh battery will provide 300 miles. Tesla struck a deal with Panasonic Corp. in October to supply lithium-ion cells using nickel-type cathode technology to build 80,000 vehicles over four years.