The price (after a $7,500 federal tax credit) for the vehicles will be $49,900 for the 40kWh vehicle, $59,900 for the 60kWh vehicle, and $69,900 for the 85kWh. A performance version of the car, which accelerates from 0 to 60mph in 4.4 seconds, will be available for $79,900. Two other luxury versions will be available for $87,900 and $97,900.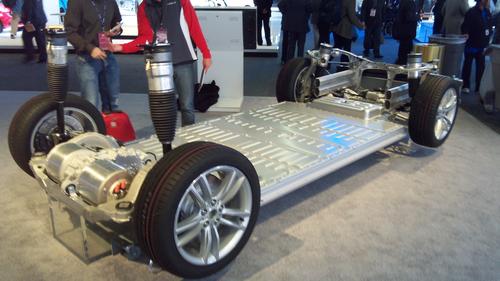 Tesla's new batteries are far bigger than those appearing on other pure electric vehicles and plug-in hybrids. The Nissan Leaf, for example, employs a 24kWh battery, while the Chevy Volt uses 16kWh. The Prius PHV plug-in hybrid incorporates a battery of just 5.2kWh capacity. That would mean the Model S's largest battery offers about 16 times more energy than the Prius PHV battery.
Tesla's $10,000 price increment between battery sizes is also significant, because its suggests that the company is building and selling battery packs for lower than the costs often quoted by experts, or is taking a financial loss on the batteries. (Tesla representatives at NAIAS would not comment on battery prices.) The 20kWh difference between the two smaller batteries, for example, represents a $500/kWh price difference. Most automakers are currently estimating prices of almost twice that for lithium-ion battery packs. Toyota said last week that it still estimates its pack costs at more than $1,000 per kWh.



More Blogs from Captain Hybrid

2
Hyundai Motor Co. has launched production of a hydrogen fuel cell-powered crossover vehicle, with the intent of building and leasing 1,000 of them by the end of 2015.

21
Nissan Motor Co. is taking the electric vehicle into new territory, rolling out an exotic-looking three-seat concept car that combines sustainability with race car-like performance.

23
Although a plug-in electric car has its advantages, some suppliers are betting that not all EV owners will want to plug in. Some, they say, will want to charge their cars wirelessly.

12
Urbee, the 3D-printed car that has attracted international attention, now has a new task to conquer -- driving from New York to San Francisco on just 10 gallons of gas.

110
Wireless EV chargers, designed by HEVO Power, have hit NYC streets. Park over one, and your electric vehicle could reach a near-full charge in about an hour.


LATEST ARCHIVED BROADCAST
For industrial control applications, or even a simple assembly line, that machine can go almost 24/7 without a break. But what happens when the task is a little more complex? That's where the "smart" machine would come in. The smart machine is one that has some simple (or complex in some cases) processing capability to be able to adapt to changing conditions. Such machines are suited for a host of applications, including automotive, aerospace, defense, medical, computers and electronics, telecommunications, consumer goods, and so on. This discussion will examine what's possible with smart machines, and what tradeoffs need to be made to implement such a solution.



Datasheets.com Parts Search
185 million searchable parts
(please enter a part number or hit search to begin)