Hybrid cars entered a new market segment this week. Toyota introduced a "gateway" vehicle that's designed to draw younger, less affluent buyers into the hybrid fold.
The Prius c, unveiled at the North American International Auto Show on Tuesday, is a more fuel-efficient version of the hugely successful Prius with a manufacturer's price of less than $19,000. Measuring 19 inches shorter and weighing about 542 pounds less than the standard Prius, the c will predominantly be aimed at city drivers who are looking for more fuel efficiency and a smaller price tag.
"It's priced and packaged for younger buyers on a tight budget," Toyota president Jim Lentz said in an official introduction before approximately 600 journalists. The c is a "gateway" vehicle that will fill a gap at the lower end of the hybrid spectrum, he said -- up to now, hybrids have been aimed primarily at the midsized and luxury markets.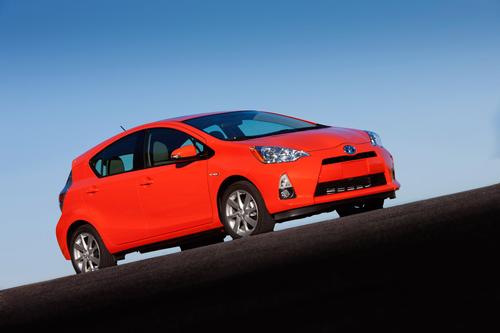 The new vehicle will use Toyota's well-known Hybrid Synergy Drive to hit a fuel efficiency target of 53mpg in the city. The drive integrates a gasoline engine, an electric motor with continuously variable transaxle, a nickel-metal hydride battery, a power inverter, a DC/DC converter, and a hybrid control computer. The gasoline engine and motor-generator will be smaller than those of the standard Prius, resulting in a total system output of 99hp, versus 134hp for the standard Prius.
Despite the growing popularity of lithium-ion batteries in electrified vehicles, Toyota engineers decided to employ nickel-metal hydride batteries on the c, just as they have on all other Priuses, except for the plug-in Prius PHV.