General Motors plans to beef up the battery safety structure, add a sensor, and install a bracket in the Chevy Volt. These changes, announced at a recent press conference, are meant to prevent the type of post-crash fire that took place last year in a Department of Transportation garage.
The automaker said the changes had nothing to do with the battery pack itself, which executives called robust and safe. Rather, the changes are being made to the vehicle structure and to a battery coolant reservoir. "It's important to note, the battery cell design used in the Volt was not the cause of the incidents that prompted the investigation," said Mary Barra, GM senior vice president of global product development.
Click the image below to view a slideshow on GM's effort to beef up the Volt's safety.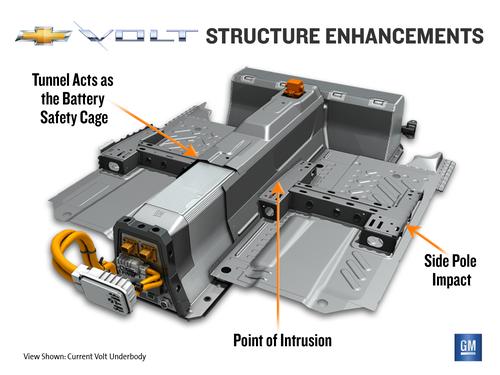 Barra said that the fire occurred after a test procedure conducted by the National Highway Traffic Safety Administration (NHTSA). The Volt was put through a so-called slow roll, in which it was rotated at 90-degree increments and held in each position for five minutes. When the vehicle was upside down, the Volt's battery coolant came in contact with a printed circuit board at the top of the battery pack. Three weeks later, the condition led to an electrical short that caused the fire.
To prevent such situations, GM engineers said they would beef up a laterally oriented cross-car structure that protects the battery, and they would add steel to longitudinally oriented members around the battery. The enhancements are meant to help the Volt handle the type of impacts that are seen in the NHTSA's side pole crash test. That test simulates a 20mph side-impact crash into a 10-inch diameter pole at a 75-degree angle just behind the car's A-pillar.