Competition in the growing battery-electric vehicle (BEV) market took a big step up last week, as Ford Motor Co. announced that it has launched production of the Focus Electric.
The Focus Electric, which carries no gasoline onboard, will go head-to-head with the Nissan Leaf and will be the only other high-volume BEV to be marketed by a major automaker. In many respects, it will be similar to the Leaf, offering a miles-per-gallon-equivalent figure of around 100 and an all-electric range between 70 and 100 miles. The new vehicle's major differences are that it will charge in about half the time, will cost slightly more than the Leaf, and will be built in a flexible setting that can handle large or small production volumes .
Click the image of the Ford Focus Electric below to view a slideshow of the five-passenger vehicle: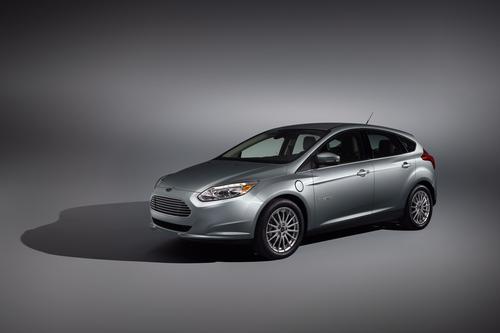 "If the Ford Focus EV starts selling like gangbusters, they'll be ready," says Dave Hurst, senior analyst for Pike Research, in an interview with Design News. "Ford will be building the gasoline Focus, the Hybrid C-Max, and the Focus EV in the same plant, and they can shift from one vehicle to another depending on demand."
Up to now, no BEV has turned in big sales numbers. The Leaf is expected to hit about 10,000 in 2011, accounting for nearly all the industry's BEV sales. Pike Research predicts overall BEV sales will hit about 30,000 in 2012, out of an expected total of 13 million vehicles sold in the US. Other battery-electric vehicles will vie for their share of these 30,000 sales, however. Honda, Toyota Scion, Tesla, and BYD Motors will roll out pure electric cars in 2012, and GM is expected to follow with its Spark EV in 2013.
The Chevy Volt, which is referred to as an electric car, doesn't fall in the BEV category, because it carries gasoline onboard.
Ford says the Focus Electric is the first pure electric car to offer fast-recharging technology. At 240V, it can be recharged in three to four hours -- about half the time the Nissan Leaf takes. The difference is Ford's use of a 6.7kW onboard charger, as opposed to the Leaf's 3.3kW charger. At 120V, the Focus battery will "fill up" in approximately 18 to 20 hours.
In a press release, Ford declared that its fast-charging capability will translate to greater range. "Faster charging with 240 volts also can extend range as drivers can more quickly recharge between stops," the release states.
Ford was not forthcoming with its miles-per-gallon-equivalent figures or single-charge range numbers, however. It said only that its MPGe will be more than 100mpg, and its range on a single charge will be "competitive with other comparable all-electric vehicles." The Nissan Leaf clocks in at 99 MPGe and the Volt offers 93 MPGe.
Ford's new EV will employ a 23kWh lithium-ion battery supplied by LG Chem Ltd. and manufactured by Compact Power Inc. In terms of capacity, the battery is very similar to the Leaf's 24kWh unit and almost 50 percent larger than Chevy Volt's 16kWh product.
Ford has priced the Focus Electric at $39,995, making it identical to the Chevy Volt, and more costly than the Leaf, which has an MSRP of $35,200.
Hurst says that most electric vehicle makers are as yet treading lightly and not expecting huge sales numbers for the Leaf, Focus, or any other BEV in 2012. "These companies aren't looking for big numbers right out of the gate," he says. "We're still seeing questions because there are a lot of new technologies here, and everyone wants to be sure they're ready."
Further reading: