One of the great chicken-or-egg questions of the modern engineering world lies in the relationship between electric cars and renewable energy. Many engineers will tell you that renewable energy must come first, otherwise our clean EVs will be powered by coal-burning generators.
Now, though, there's another way of looking at that question. As the "vehicle-to-grid" (V2G) concept grows in popularity, some experts believe that electric cars need to come first, or at least in tandem with renewables. In a V2G world, they say, electric cars would dump their battery power back onto the grid, serving as an enabler for wind and solar energy.
"It's synergistic," John Gartner, senior researcher for Pike Research, which recently published a study called "Vehicle-to-Grid Technologies," told us. "Deep penetration of electric vehicles would be greater if we had proliferation of renewables. But in the same way, penetration of renewables would be greater with electric vehicles to do some of the load balancing."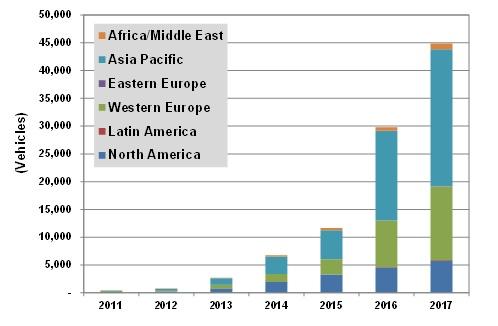 Although that logic may initially sound tangled, it isn't -- at least for those who believe in the vehicle-to-grid concept. In V2G, electric cars with big lithium batteries would actually serve as a savior of sorts for the grid. The general idea is this: When an EV is idle, it could autonomously send its power back to the utility during a moment of need.
That might not sound particularly useful, until you put renewable energy into the equation. Because renewable energy is an intermittent power source, it needs to be backed up a by a "load balancer," such as coal or nuclear. Proponents of V2G see the electric car battery as the balancing element of the future when wind and sunlight aren't available.
"If even a small percentage of the light-duty fleet is V2G-enabled, it would be enough to handle all that variability," Gartner told us.
There are, of course, some hurdles to making this happen. Some engineers believe the concept poses a risk to consumers, or to electrical linemen working nearby. Others say that repeated two-way cycling would damage batteries, and they want to know who would be responsible if it did. Moreover, every V2G-enabled car would need an onboard two-way inverter-charger and additional components that could cost as much as $500 per car.