To turn the gasoline-powered DeLorean into an EV, the company worked with Epic EV and Flux Power, Inc. (ironically, Flux Power did not name itself for the famed "flux capacitor" that powered the time machine in Back to the Future). Flux, which previously provided the battery pack for the well-known WheeGo electric car, created a 720-lb battery pack for the DeLorean, using 52 large format lithium iron-phosphate cells. The 32kWh battery pack does not have its own active cooling system, but does employ a battery management system to monitor every cell in the pack.
"We believe that if you manage each individual cell, you'll understand more about what the system is doing," said Anthony of Epic EV. "By connecting all of our cells to the management system, we know the internal impedance, voltage and heat of every cell, and we can make decisions based on those parameters."
To boost the new car's performance and its fuel efficiency, DeLorean Motors re-engineered the original vehicle underbody, thus cutting its weight from 450lbs to 250lbs. The old body, a combination of fiberglass and steel that was designed by Lotus Engineering 30 years ago, has been replaced by modern composites. The lighter body and a 220kWh DC motor combine to make the new DeLorean accelerate faster than the original.
Anthony contends that the DeLorean EV compares favorably to the Nissan Leaf in some key respects. "The Leaf weighs about 4,300 lbs, while this vehicle comes in at sub-3,000," he told us. "The DeLorean also uses a 32kWh battery, compared to the 24kWh battery in the Leaf."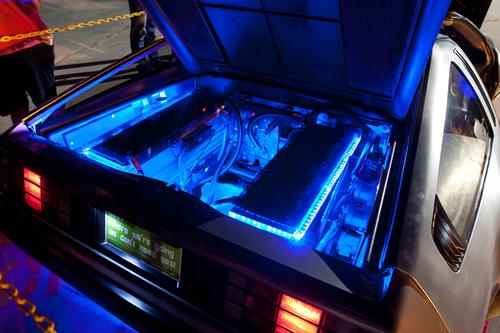 Still, the DeLorean costs three times as much as the Leaf and, because it's a conversion, incorporates few of the safety features of today's vehicles.
Its real appeal, however, remains its futuristic look, Anthony said. "Whenever I drove it, people would ask, 'Is that a DeLorean? Could you open the doors for us?' "
Espey acknowledges that vehicle's mass appeal still stems from the trilogy of Back to the Future movies. Without those, he said, media coverage would have been only a fraction of what it was after the company rolled out the prototype DeLorean EV on October 14.
"I guarantee, somewhere in the world right now, one of those three movies is on television," Espey said. "Someone will watch the movie, get curious about the car, and look it up on the Internet. And when they do, they'll find our company."
Related reading