If you pay close attention to the automotive engineering world, you've almost certainly noticed the sharp rise in business partnerships.
Two weeks ago, General Motors (GM) announced it would team with South Korean battery manufacturer LG Chem to "jointly design and engineer future electric vehicles." Days earlier, GM contracted with A123 Systems, another battery manufacturer, in a similar electric car arrangement. A week before that, Ford Motor Co. teamed with Toyota on the development of a big hybrid powertrain for trucks and SUVs.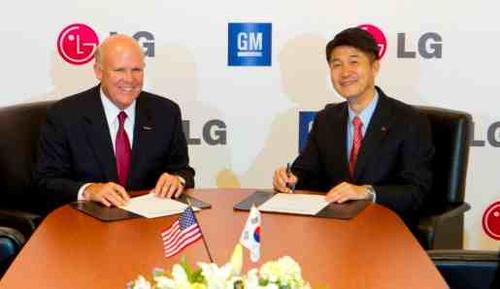 Lest you think this is a passing fad, here are a few more: A123 is partnering with Fisker Automotive; Panasonic with Toyota; Nissan with NEC; Daimler with BYD; Mitsubishi with Toshiba... You get the idea.
The trend has grown so strong that we need to remind ourselves that it transcends the electric car business. Ford, for example, recently teamed with Medtronic, a pacemaker manufacturer, on the development of an in-car glucose monitor. Before that, it coupled with Microsoft's embedded automotive business on its well-known Sync in-vehicle communications system.
"In today's new business model, the emphasis is on collaboration," David Cole, auto industry expert and chairman emeritus of the Center for Automotive Research, told Design News. "It's part of life today. If you want to do things faster and reduce cost, partnership is one way to go, particularly when you're not certain what the future looks like."
Indeed, uncertainty is a big variable in this equation. GM made the mistake of forgetting that a decade ago when it built its in-car PC, and the result was a flaming flop. Today, automakers recognize that they're not experts on audio, video, or in-car voice recognition. And they are certainly aren't experts on glucose monitors. The riskiest area of uncertainty, however, undoubtedly lies in EV battery arena.
"The automakers want the best technology and the best price," Kevin See, the lead analyst on a recent Lux Research report, "Using Partnerships to Stay Afloat in the Electric Vehicle Storm," told Design News. "This is essentially a way for them to go into a development project and test out the wares from different companies."
Sometimes, it's even more than that. A few years ago, Ford and GM co-developed a six-speed automatic transmission, despite some apprehension over the fact that they were age-old rivals. "It was difficult for them to come together, but then they realized, 'Gee, we think alike and we work well together,' " Cole said. "Today, they each manufacture that transmission. And they each saved tens of millions of dollars and nearly a year of development time by working collaboratively."
The same was true of GM's 2004-2005 collaboration with BMW, Daimler, and Chrysler LLC. Together, the team built a beefy hybrid powertrain with multiple planetary gear sets. The partnership subsequently dissolved, but the technology has remained useful to all of the companies today. By doing it together, they also saved on the $1 billion development tab.
That's the bottom line: Manufacturers develop the technology more quickly and save a bundle in the process. At the same time -- here's the part no one wants to talk about -- they reduce their beating if that uncertain world takes an unexpected turn and the technology flops. That's why it's particularly important for today's electric car competitors. A $2 fluctuation in gasoline prices could turn success into failure, and vice versa.
"That's why it's a trend," Cole told us. "When you're dealing with really expensive stuff and you don't know what the future holds, there's a lot of incentive to take the cost out of the development process and bring the technology to market sooner."