If you've ever seen a retread fly off a speeding 18-wheeler, then you'll understand the value in Freescale Semiconductor's latest tire pressure monitoring (TPM) effort.
The Austin, Texas-based semiconductor company has developed a tire pressure monitoring device that will enable fleets to remotely check pressures on their trucks' overloaded tires, and one day even spot excessive tread wear. "We're talking about bringing the fuel economy and safety of passenger vehicles to the trucking industry," said Ian Chen, manager of marketing for systems, applications, and software at Freescale.
Known as the FXTH8715, the device offers a way for truck fleets to transform tire pressure monitoring from a user interface application to an Internet of Things (IoT) model. Inside its 7-mm x 7-mm package, the new device incorporates a MEMS-based dual-axis accelerometer, pressure and temperature sensors, eight-bit microcontroller, and RF transmitter.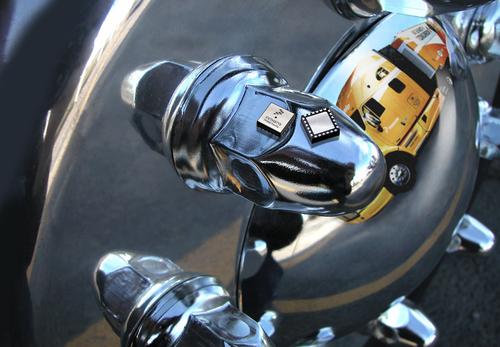 With the new chip, a truck would be able to send data to the cloud via a telematics system. The fleet manager could then pick the data off the cloud and subsequently send out warnings to the truck driver in the event of a potential problem. Doing it that way, the driver wouldn't need to scan a complicated dashboard display that posts data on 18 different tires.
The device's real technological step forward, however, is that its accelerometer and pressure sensor can reside inside a very high-pressure atmosphere. The FXTH8715 accelerometer is designed to handle pressures up to 50 kPa (about 218 psi), which is 20 kPa more than the legal limit and about twice what an 18-wheeler would normally use. As a result, it's capable of providing reliable data on an overfilled tire or an overloaded truck.
Chen told Design News that TPM system makers haven't previously offered sensors for very high-pressure applications because such sensors need to be custom designed. "The innovation is in creating a pressure cell that can withstand significantly more than 1,500 kPa," he said. "In a MEMS sensor, there's always a tradeoff between sensitivity and stiffness of the device. If it's too stiff, it won't be as sensitive. If it's not stiff enough, it can't handle the environment." Chen said that with its new pressure cell, Freescale created a customized TPM sensor that could handle the pressures without sacrificing sensitivity.
MORE FROM DESIGN NEWS: Tire Pressure Monitoring Chip Lays Foundation for Autonomous Cars
Ultimately, Freescale hopes the device will be employed, not just in the valve, where most such devices are mounted today, but in the tread of the tire. "That way, you actually know how much load your tire is bearing, and you can statistically estimate your tread wear," Chen told us.
Such capabilities are significant, Freescale said. According to statistics from the National Highway Traffic Safety Administration, 23,000 accidents and 535 fatalities involving flat tires or blowouts occur in the US each year. But while legislation has been put in place mandating the use of TPM on automobiles, no such legislation exists for 18-wheelers.
Freescale hopes its new chip can help change that by making it easier for suppliers to install it. The new chip is software-compatible with existing automotive TPM systems, and requires only that suppliers add an antenna, battery, and enclosure.
"The bottom line is that the truck market has lagged behind in this technology," Chen said. "We hope this product can help change that."
Senior technical editor Chuck Murray has been writing about technology for 31 years. He joined Design News in 1987, and has covered electronics, automation, fluid power, and autos.
Design engineers, New England's premier design and manufacturing event, Design & Manufacturing New England, will take place in Boston, May 6-7, 2015. A Design News event, Design & Manufacturing New England is your chance to meet qualified suppliers, get hands-on with the latest technologies, be informed, and expand your network. Learn more here.