Ultimately, Toyota engineers decided to squeeze the battery pack under the floor in back. They installed it in the spare tire area and then raised the floor a few inches. To cool the battery's three modules and 288 cells, they added 42 temperature sensors and three fans, which operate autonomously while the battery recharges. Still, the space difference between the new car and earlier-generation Priuses is only mildly noticeable.
Toyota engineers coupled the battery to two motors, known as MG1 and MG2, which provide traction and power generation. They say they made only minor modifications to the earlier Prius traction motor, boosting the power to about 60kW (80hp) and adding weight to the inverters.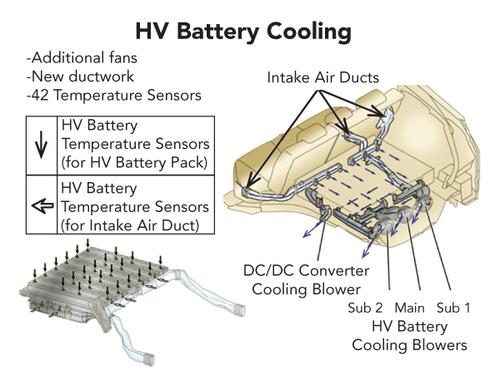 They did not make the traction motor big enough to cover all of the car's power needs. When the driver steps deep into the accelerator, the vehicle needs about 120-130kW of power -- far more than the traction motor provides. Therefore, Toyota engineers designed the powertrain to blend power from the traction motor and an inline four-cylinder Atkinson-cycle engine, enabling the vehicle to meet peak load requirements.
"The option was to increase the size of the traction motor, which would have meant more copper and more magnetic material," Ward says. "It would have also meant that we would have needed to increase the IGBTs [insulated gate bipolar transistors], which would have boosted the vehicle cost. So we would have been adding cost to accommodate the few times that drivers went to full throttle."
As a result, the Prius PHV still borrows freely from its internal combustion engine and its well-known Hybrid Synergy Drive. During operation, the vehicle uses at least four microcontrollers in the hybrid drive system to decide when to shift back and forth from the all-electric mode to the internal combustion engine mode or to the blended operation.
"The benefit of using the power-split design is that when the battery pack is consumed, it allows the vehicle to default back to the operation mode of a conventional Prius," Ward says. "So you maintain the same big fuel economy benefit that you had before."
The use of the power split with vehicle accessories also provides an initial cost benefit. Toyota engineers say the powertrain controllers enable the gasoline-burning engine to cut in whenever the driver turns on the heat or air conditioning.
"In cold weather, we've had some people complain because the engine cuts in to heat the cabin," Reinert says. "But if they understood how much more the battery would need to cost to get it done in all-electric mode, they wouldn't complain."