The idea for the plug-in Prius evolved gradually over the last few years at Toyota, but it began gaining momentum after the automaker worked with engineers at Carnegie Mellon University to study the impact of the proposed vehicle.
"Carnegie Mellon told us that it was clear that if you want to make a big environmental impact, you need to design a smaller battery that gets charged more frequently," Reinert recalls. "It seems counterintuitive. You'd think you'd want to have the biggest battery you could get. But, no, you don't. What you really want is to arrive at your destination with the last watt coming out of your battery."
What Toyota learned from the Carnegie Mellon studies was simple: Big depleted batteries translate into dead weight, which actually works against the vehicle's owner. Knowing that, the automaker set out to create a Prius with a battery could enable drivers to go for about 10 to 15 miles on a charge. As Toyota saw it, a battery of that size would offer advantages -- namely, costs and recharging -- beyond what Carnegie Mellon engineers had cited.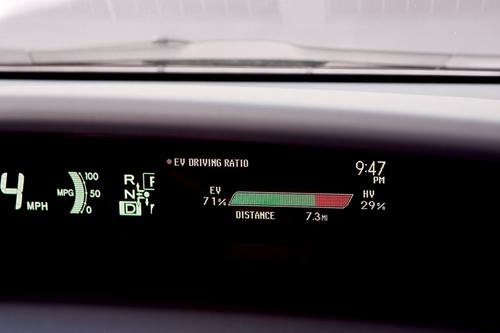 In today's highly competitive auto market, costs may end up being the biggest advantage of all. Toyota engineers say the cost of electric propulsion is still steep -- approximately $500 per mile. As a result, a pure electric range of 40 miles (as in the Chevy Volt) translates to an initial cost difference of about $13,500 over the cost of a 13-mile battery, such as the one used in the Prius PHV.
Still, the tight confines of the Prius weren't well suited to the addition of a 5.2kWh battery weighing about 350lb (160kg), or about 200 more pounds than the the original Prius battery.
"We had to figure out where to put it," says Justin Ward, advanced powertrain program manager for Toyota. "The question was 'Do we need to make a compromise within the interior volume?' Most people will accept a compromise for a few days, but then they begin to find it irritating when they can't fit things in the back seat."