An engineering team from Ohio State University (OSU) has set its sights on the unimaginable -- driving 400 mph in an electric vehicle.
The Venturi Buckeye Bullet team plans to draw on the power of eight battery packs for a period of about 90 seconds to accelerate its vehicle from zero to 400 mph across a six-mile stretch of Utah salt flats next summer. "The way it goes in land speed racing, the bragging rights come with the first digit," David Cooke, an OSU mechanical engineering grad student and team leader, told Design News. "Our earlier vehicles have gone 320, 330 mph. Our next milestone is to get that first digit up to four."
The Venturi Buckeye Bullet, well known for its previous record-setting runs on Utah's Bonneville Speedway, has never hit 400 mph, but its team believes it now has the right powertrain configuration to reach that number. The latest iteration, known as VBB3, uses eight lithium-ion battery packs from A123 Systems to generate about 2.5 MW of power. The key, Cooke told us, is slamming enough current into four Venturi AC permanent magnet motors to enable the vehicle to accelerate for about 90 seconds before depleting the batteries. To do that, it draws about 425A from each of eight battery strings (for a total current of 3,400A), and then runs at an average voltage of about 735V. Once the power is available, VBB3's motors spin at 10,500 rpm, generating approximately 2,000 HP (1,000 HP per axle) and 1,180 lb-ft of torque (295 at each motor) for a run of no more than 90 seconds.
Click on the image below to start the slideshow.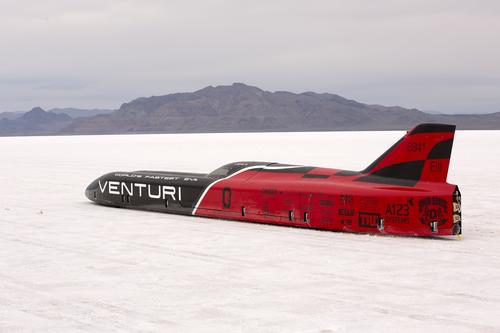 "You get about five to six miles of acceleration, which usually lasts about 62 seconds," Cooke told us. "So everything on this vehicle has to be designed to go from zero to 'as fast as possible' in six miles."
The team's design includes a minimalists approach to the battery packs. Configured in conjunction with A123, the packs use no cooling system, largely because a cooling system would have little opportunity to draw sufficient heat from the batteries in a 60-second span. As such, engineers decided there would be no value in carrying the extra weight of a battery cooling system.
Motors, however, are oil cooled and inverters are water cooled.
Cooke said the team considered multiple power sources before settling on the current configuration. Early in the design process, they examined supercapacitors, but found that "supercaps" would not suffice for a potential run of 90 seconds. They also considered a battery-supercap hybrid, before ultimately selecting pouch-type, prismatic battery cells that employ A123's well-known iron-nanophospate chemistry. Engineers from A123 helped tweak the chemistry for high power, while retaining enough energy to enable the cells to last for the full duration of a run.
"Not many people look at a battery and say, 'How do I pull absolutely all the energy out in two minutes?' " Cooke told us. "You're in a tough spot when you have to extract all that energy in such a short time period."
The team's efforts have yielded success, however. Last month, the VBB3 set a new two-way average speed record of 212 mph, which is still pending certification by the Federation Internationale de l'Automobile (FIA) for the vehicle's size category. During its runs, it clocked in at top speeds of about 270 mph.
Cooke refers to the team's 2014 effort as a "testing and verification year," largely because the salt flats were partially under water, necessitating that they run the vehicle at roughly half the normal track length. In 2015, however, he predicts that will change. "After seeing what we did this summer, we're confident that if the weather is right, we could do 400 mph by next year," he told us.
Related posts: