For city dwellers, finding a parking space can be a time-consuming and downright exasperating task.
Now, however, engineers may have found a solution to that old urban problem. By designing a car that can move sideways into a parking space, engineers at the DFKI GmbH Robotics Innovation Center in Germany may have made it faster and easier to wiggle into even the tightest spots. "With this car you'll know if you'll fit," Timo Birnschein, project manager for the vehicle, told Design News. "You don't have to do a zig-zag move to fit into a parking space that you found after two hours of searching."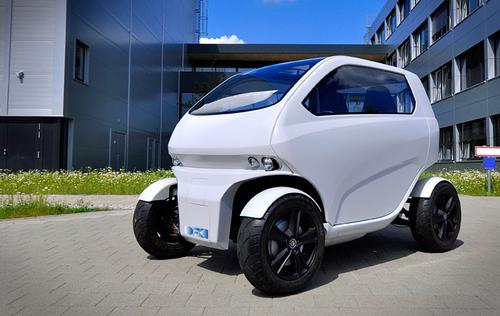 Known as the EO Smart Connecting Car 2, the concept vehicle works by folding up and turning its wheels perpendicular to the curb that it's approaching. As a result, it reduces its normal 2.5m length by about 80 cm, while simultaneously driving sideways.
See it in action:
MORE FROM DESIGN NEWS: Tesla Targets Home Energy Storage
The key to being able to accomplish that lies in the car's use of a tubular frame. Employing a tubular frame, instead of pressed sheet metal, the car's rear axle can actually roll forward on the tube, causing the cabin to tilt upward.
"With this kind of shrinkage, we can navigate into parking spaces that are small enough for a bicycle," Birnschein told us.
The concept's other key enabler is its use of an electric powertrain. Electric motors in the wheel hubs simplify the vehicle's packaging and allow engineers to turn the wheels and tilt the cabin in ways that wouldn't ordinarily be possible.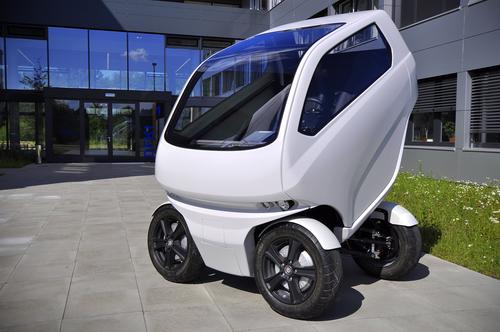 "With wheel hub motors, you can completely rethink the design of the car," Birnschein said. "You don't have a transmission, gearbox, exhaust, or differential -- all those massive parts. It's simpler."
The car's electric powertrain, which uses an uncooled lithium iron phosphate battery, also allows it to be charged as part of a larger group. By plugging into one another, the EO cars can be connected like a train of shopping carts, while electrical charge is passed from the front to the back of the train. Ultimately, DFKI engineers foresee this as a key to enabling car-sharing schemes, as well as a way of saving space during recharging. The institute claims the EO Smart Connecting Car enables a typical parking lot to hold seven times more vehicles than a similarly sized parking lot full of conventional cars.
Although the design hasn't yet been adopted by any automakers, DFKI engineers believe the wisdom behind the concept will become more evident as today's big cities grow into future mega-cities. "Today, 30% of the gasoline in some cities is used just for finding parking spaces," Birnschein said. "If you take away that problem, imagine how much cleaner the air would be."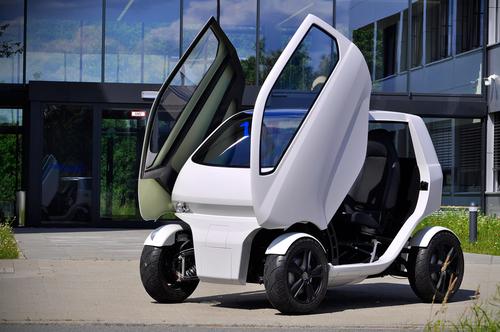 Senior technical editor Chuck Murray has been writing about technology for 31 years. He joined Design News in 1987, and has covered electronics, automation, fluid power, and autos.
Atlantic Design & Manufacturing, the largest advanced design and manufacturing trade show serving the Northeastern US, will take place in New York, June 9-11, 2015. It's your chance to meet qualified suppliers, get hands-on with the latest technologies, and expand your network. Learn more here.