It is truly awesome to be an engineer today.
I do not mean that anything has changed since last week, but I am definitely thankful to be a mechanical engineer in a day and age where I can design, simulate performance, analyze manufacturability, and prototype without leaving my desk (I get all my walking in at lunchtime).
This does not marginalize any of the aforementioned steps in product development, but it illustrates the plethora of capabilities in the contemporary digital engineering toolkit. As an applications engineer in Silicon Valley for GoEngineer, I have the privilege of exploring the integration of these technologies into existing workflows for companies that are constantly redefining their respective industries.
While their products vary from heart stents to smart watches to solar panels, one thread is common among them: Engineers need to do more with less. Some may be discouraged by this mantra; I see it as a challenge. As engineers, we live to solve problems. It is in our DNA!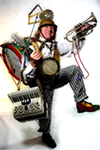 Design, simulation, manufacturability, and prototyping: All of these phases are being pushed forward and progressively by underlying technologies.
In design, 3D CAD is an industry standard. This market is quite crowded. Software can be free or upwards of $30,000 per license, closed or open source, locally installed or cloud-based, and parametric or direct modelers. The short story: There are many flavors of CAD. While able to create a block with a hole in it, all of them have pros/cons as more specialized features are desired, such as advanced surfacing.
MORE FROM DESIGN NEWS: 5 Tips for Engineering Students
Once we have a beautiful 3D CAD model, it is our responsibility to ensure that it will not break in is intended environment. Computer simulations can virtualize physical tests that take weeks to build, setup, and conduct. This field used to have a high barrier to entry, and engineering verification required the hiring of a dedicated PhD analyst. Now there are simulation capabilities built into CAD systems that enable concurrent design validation. This reduces development time while increasing the quality of the design.
Knowing that the product will survive, making sure that manufacturing it efficiently is essential. There are packages that can analyze processes ranging from injection molding to CNC machining and turning. Most 21st century machine shops accept intelligent 3D CAD models and do not require the manual step of detailing a 2D paper drawing.
MORE FROM DESIGN NEWS: 5 More Tips for Engineering Students
Looking at an image on the computer will take you to the final step: prototyping. Exporting the 3D CAD model to a desktop 3D printer, I can experience the design in the physical realm.
One of the benefits of 3D printing is that I do not have to be present while it is running. I simply set up the job and head home for dinner. In the morning I can collect the part and present it to the team. After receiving ample feedback from my colleagues (hopefully positive), it is time to rinse and repeat!
David Waltzman is division simulation manager at GoEngineer, which delivers software, technology, and expertise that enable companies to unlock design innovation and deliver better products faster. Prior to GoEngineer, David gained experience in FEA and 3D modeling with SolidWorks while working at International Rectifier. A certified SolidWorks Expert and an Elite Applications Engineer Award winner, he holds bachelorís and masterís degrees in mechanical engineering from the University of California.