No one knows exactly what goes through the mind of Myles "The Fury" Jury when he walks into the ring for an Ultimate Fighter mixed martial arts bout. But he's certainly not worrying about his mouthguard, an individually fitted device made by Fight-Bite.
It currently takes Fight-Bite about a day to design custom-fitted mouthguards such as those worn by Jury and Daron "The Detroit Superstar" Cruickshank. But, that could soon change dramatically. Thanks to a 3D digital process developed by eQuality Tech, Fight-Bite could cut the time down to an hour or less.
Better protection with proper fit
A person's dental structure is like a fingerprint, but capturing it accurately in 3D is much more complex than placing a thumb on a scanner or ink blotter.
The 3D digital process proposed by eQuality Tech relies on Geomagic Studio software to post-process data from the 3D scan of a dental impression, and turn it into an exact digital model that can be manufactured for a perfect fit.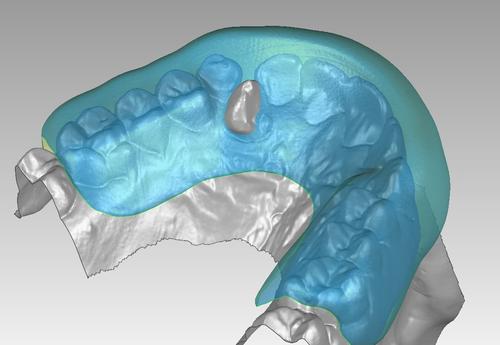 That perfect fit ensures a lot more than comfort and safe teeth. According to a study by the Nevada State Athletic Commission, a properly fitted mouthguard provides a level of protection far beyond the so-called "boil and bite" mouthguards that can be purchased at sporting goods stores.
"Each person's jaw has a different size and shape," the study states. "With a properly made and fitted mouthguard, your lower jaw is not in contact with the base of your skull, reducing the possibility of secondary trauma and concussions." Beyond protection, a custom fit helps promote free breathing and talking.
Common ground, common goals
Fight-Bite and eQuality Tech came together through a strong set of commonalities, including dental experience, geographical proximity, similar goals, and a shared go-get-'em work ethic emblematic of young entrepreneurs.
"What makes Fight-Bite so unique is their knowledge and background in the dental industry," Srdjan Urosev, CEO of eQuality Tech, said in an interview. "Also, the owners have been around martial arts and the MMA (mixed martial arts) for a long time. They understand the requirements for a quality mouthguard because they have been in the ring and taken the punches."
Fight-Bite's founders, Paul and Karl Keller, grew up working in the labs of their father's orthodontist practice, where they gained in-depth knowledge of dental anatomy and structure. Their business combines that experience with their love of mixed martial arts.
The Kellers and Josh Bitterman, a managing partner and former amateur MMA fighter who heads up Fight-Bite's marketing and sales, found kindred spirits in eQuality Tech, a company specializing in 3D scanning, reverse engineering, and virtual quality control for industrial and dental clients.
"They have a diverse portfolio of customers -- everything from jewelry to automotive to dental -- and are young entrepreneurs like us with a lot of expertise and an excitement about our product and brand," Bitterman told us. "They have the same goal as we do: Producing a highly customized product in a mass setting."