Easy to use and automate, instant adhesives -- also known as cyanoacrylates or CAs -- are one-part materials that cure in seconds at room temperature when compressed between two parts and exposed to ambient surface moisture. These adhesives provide high bond strength to a variety of substrates, including PVC, ABS, polycarbonate, phenolic, nylon, steel, stainless steel, aluminum, zinc dichromated metals, wood, cork, leather, fabric, paper, nitrile rubber, and neoprene. They also work on hard-to-bond plastics such as polyolefins, polyethylene, polypropylene, fluoropolymers, acetal resins, and PTFE.
Available in a wide range of viscosities from water-thin wicking grades to gels, instant adhesives are a natural choice for high-speed assembly applications that require an extremely strong bond in seconds. Processing can be manual, semi-automated, or fully automated, and formulations are available to meet most performance requirements.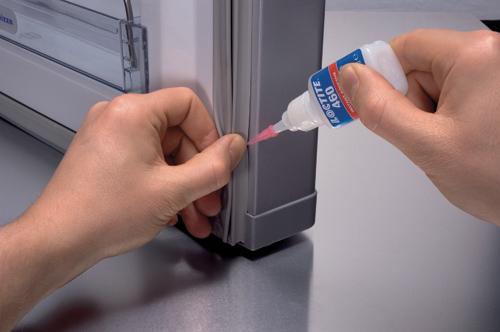 Since these adhesives provide long open times before substrates are mated, components do not need to be joined immediately after the adhesive is dispensed. Instant adhesives are especially valuable when bonding small parts or filling gaps of 0.08 inches or less.
Manufacturers in a range of industries trust instant adhesives every day to meet their design and assembly challenges. These adhesives perform reliably on automobiles, appliances, medical devices, electrical equipment, electronics, cosmetic packages, toys, lighting fixtures, motors, generators, compressors, filters, and a range of other applications.
Early generations of instant adhesives exhibited some inherent limitations such as poor peel strength, a limited ability to cure through gaps, an inability to survive exposure to elevated temperatures, stress cracking on some plastics, strong odors, and blooming -- a white haze that forms along the bond line. New technical advances in CAs have overcome some of these limitations for challenging applications.
Instant adhesive varieties
Many varieties of instant adhesives have been developed that overcome traditional limitations and meet design and assembly challenges. For example, chemical innovations have resulted in surface-insensitive formulations that cure rapidly and fully on acidic or dry surfaces and in low-humidity environments. The latest surface-insensitive formulations speed assembly processes by fixturing in 15 seconds or less. These varieties also provide high bond strength and thermal resistance, maintaining their strength at temperatures of up to 250F. Surface-insensitive CAs bond metals, plastics, and elastomers.
Toughened formulations contain additives that increase the adhesives' crack and impact resistance, allowing their use in high-shock/vibration environments. Toughness is the ability for an adhesive to resist cracking, and it is not related to flexibility. In their cured state, new toughened polymers exhibit more peel strength than older formulations, and they are far less brittle, greatly increasing the adhesives' usefulness in sporting goods and other equipment designed for high impact.
Flexible instant adhesives are commonly used in joints that must stretch or bend -- for example, on catheters. These products greatly reduce knife edging, which happens when the sharp edge of the cured adhesive cuts into a soft and flexible substrate being bonded.