Adaptive speed controller gain
Adaptive gain in the speed controller offers the ability to automatically lower the controller's gain at low speed and increase the gain as the motor RPMs increase.
The gain value for a speed controller is often referred to as Kp. When adaptive Kp is enabled, the Kp has the ability to change with motor speed. As an example, in the figure below, Gain 1 = 30, Gain 2 = 100, Speed 1 = 100rpm, and Speed 2 = 500rpm. With these settings, the Kp that the speed controller will utilize will be 30 for speeds below 100rpm. The Kp will be 100 for speeds above 500rpm. The Kp will linearly ramp between 30 and 100 as the motor RPMs increase between 100 and 500. This would result in a Kp = 65 at 300rpm.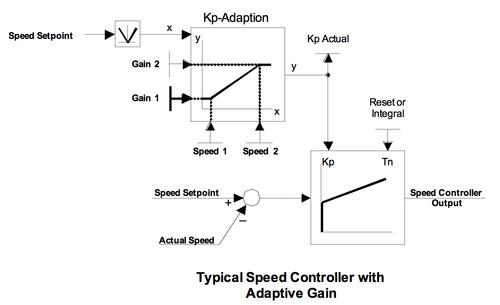 Adaptive Kp is a good feature to use in order to avoid the problem of instability at near-zero speeds after the machine's mechanics have loosened up. Since most machines do not produce material at very low motor speeds, why keep the gain at high levels when it is not necessary? If the servomotor always accelerates to a high rpm immediately after it is enabled, then adaptive gain may not be as critical. However, for motors that might be enabled at very low speeds and run at crawl speeds or homing speed, adaptive Kp can help avoid instability issues.
Resolution of encoder feedback
Another factor that can cause instability at low speeds is insufficient resolution on the motor's feedback device. Since servomotors do not usually use pulse encoders, the low-resolution feedback device of choice is the resolver, while the high-resolution feedback device is the optical encoder, also called sin/cos or incremental. Resolution is defined as the ability of a feedback device to detect small changes in angular position of the motor shaft.
Some people may disagree with the classification of a resolver as a low-resolution device, since it has an analog output, which in theory should have infinite incremental values for one revolution. While this may be true, the reality is that, in today's servo drives, analog signals have to be processed by analog-to-digital devices (A/D converters) in order for the positional information to be utilized. As a result of this limitation, most resolvers have fewer than 10,000 increments/revolution.
In contrast, sin/cos optical encoders transmit 2,048 sine waves and 2,048 cosine waves for every revolution. The drive's electronics take multiple samples of each wave, which can result in the processing of more than 1 million increments/revolution. This factor of 100 in difference of resolution can have a large impact on your ability to properly tune your motor for an application.