The two relays can be used to enable and disable a spindle and a secondary function, such as a vacuum cleaner or a coolant pump. The spindle usually is a router or a plasma torch. In the case of a router, the relay is switching 120/240V AC, so a 250V varistor is provided to protect the relay contacts. To drive the relay coil, a solenoid/relay power stage is employed. The CNC controller enables these tasks when a job is submitted to the machine, and it disables them once said job is complete.
The charge pump is a block put into place to ensure operator safety. Since it is not possible to guarantee that the computer's parallel port will send the right control signals at all times, there is a chance for the tool (the router blade or the plasma torch) to go live at any given point in time. This problem becomes apparent when the computer is rebooting and the parallel port's state is unknown.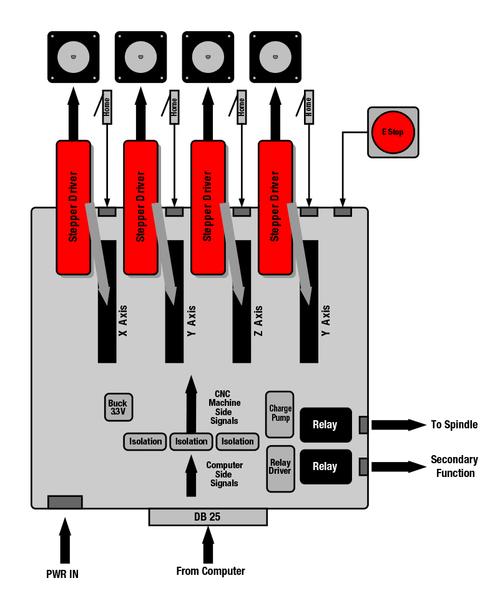 To have these tools spring to life at any time other than while running a job can result in serious operator injury, so it is crucial that we limit their operation. The CNC controller offers a heartbeat signal in the form of a 12kHz pulse, which is only available when the CNC controller is running properly. We are using a simple MSP430 microcontroller to sample the 12kHz signal and allow for relay enablement only when said heartbeat is present.
The input functions are mostly optional except the emergency stop (E-stop), a resource I would not skip. The E-stop is an important safeguard, as pressing this button commands the CNC controller to halt all operations immediately. The other four inputs, however, are optional. In the CNC motherboard, we have allocated the remaining four inputs to home sensors, which can be used to bring the four axes to a known starting position. I like having this function on CNC milling machines, but I find they are not as necessary on CNC plasma cutters.
Last, but not least, the CNC motherboard includes a series of regulators, such as a buck converter to generate 3.3V to power up all the logic and a linear regulator to generate 12V to power up the relays.
Jose Quinones is an applications engineer for the analog motor control group at Texas Instruments.
Related posts: