There is a wide variety of engineering-grade thermoplastics available for manufacturing low-volume production parts with AM. If that sounds limiting, engineers don't have to let past practices or traditions dictate future materials decisions. A part previously made of sheet metal may be an ideal candidate for plastic because the rationale for the original materials decision may no longer hold true. Sheet metal may have been selected as a practical, but not preferred, manufacturing process because of low production volumes and high cost for injection molds. With AM, a sheet metal enclosure can be converted to a sophisticated, stylized plastic part since there is no tooling to amortize over a small production run. A successful AM project must consider the material properties required and possibly revise the design based on material selection.
In conventional manufacturing, production volume means quantity. In contrast, with AM, production volume literally means a specific volume, expressed in the total cubic inches produced per year. To illustrate, AM might be practical for 100 parts the size of a basketball, 800 parts the size of a baseball, or 2,400 parts the size of a golf ball.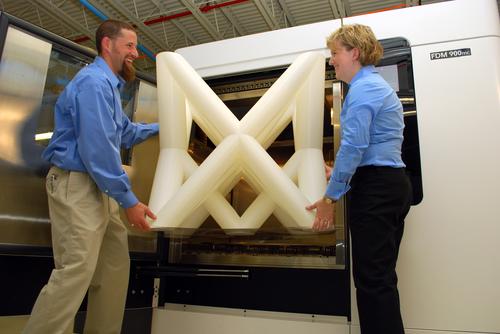 Production volume can be calculated by multiplying the annual quantity by the part's physical volume. For example, 100 parts with a volume of two cubic inches each would yield a production volume of 200 cubic inches. When making calculations, each product revision will require another calculation, since a changing design might boost or lower annual production quantities.
Unfortunately, there is no universal sweet spot for cubic inches/year so each company must find its own breakeven point. Note, though, that additive manufacturing systems continue to improve in speed. This means that more and more parts are becoming potential candidates for AM.
Additive manufacturing is being used in specialized technology applications where limited quantities of durable, precision plastic parts are needed. Companies in the medical and dental fields were among the early adopters of AM. Medtronic, for example, has said that it used AM to save nearly 60 percent on production costs of a new surgical handle. The process allowed Medtronic to produce a low volume of production handles early on to gain faster feedback and acceptance from focus groups, which reduced the product's overall time to market.
Jigs, fixtures, assemblies, and vacuum forming tools can also be produced with AM. For example, at the BMW AG plant in Regensburg, Germany, FDM (Fused Deposition Modeling) continues to be an important part of vehicle design prototyping. Beyond prototyping, BMW has extended the application of FDM to its department of jigs and fixtures to enhance the ergonomics of its hand-held assembly devices. The tool designs the company's engineers created could not be matched by either machined or molded parts. In one example, BMW said it reduced the weight of a single device by 72 percent using AM and a sparse-filled build technique. That makes a big difference when a worker uses that tool hundreds of times throughout a shift.
Engineers who plan to use AM to produce the final end-use part and never transition to injection molding can design with AM in mind from the start. Designing for additive manufacturability allows for free-form design, instead of being constrained by traditional design requirements. Some companies are looking to AM to solve unique design issues that could not be solved through injection molding. For example, for a fragile part that has internal chambers, it's possible to use a teardrop shape to form the chambers instead of a circular hole. The result is a part that's more cost effective to produce, because there's no need for support materials, and one that is structurally more stable. As another example of problem-solving unique design challenges, AM makes it easier to add gussets to certain geometries for more permanent support and strength than injection molding.
As a design engineer myself, I encourage engineers to think about the options available when designing for additive manufacturability. Taking existing parts and rethinking design within the context of AM may make it possible to find some simple solutions to challenges or inherent structural support issues that currently exist. It's an exciting time to be a design engineer because new technologies like AM are opening up a lot of possibilities.
— Bill Camuel is a project engineering manager at RedEye On Demand, a Stratasys business.
Related posts: